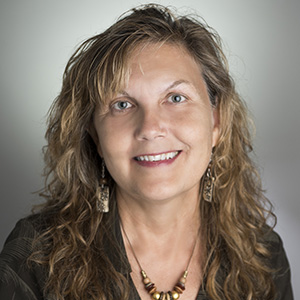 Staff

Bernadette de Leon

Director of SPH-B IT Services
Open Research and Contributor Identifier
Education
Johns Hopkins Bloomberg School of Public Health, Spatial Analysis for Public Health (graduate certificate), 2021

Indiana University, School of Public Health, PhD, 2017

Indiana University, School of Public and Environmental Affairs, MS Environmental Science, 1997

Indiana University, College of Arts and Sciences, MA Biology, 1997
Background
Prior to her work as director of School of Public Health-Bloomington IT Services, Bernadette was the GIS specialist and IT support person at the U.S. Fish and Wildlife Services' Indiana Field Office in Bloomington and an adjunct instructor in the School of Public and Environmental Affairs (SPEA). As a certified Geographic Information Systems Professional (GISP), her IT and teaching work has focused on GIS and spatial analysis. She completed her PhD at the School of Public Health-Bloomington and holds dual masters degrees from IU: an MS in Environmental Science and an MA in Biology.
Selected Publications
Articles
Sheats, J.L., de Leon, B., & Ona, F.F. (2014). Where are the fresh fruits and vegetables?: A systematic exploration of access to food stores offering fresh fruits and vegetables as told by Midwestern African American women, Journal of Hunger & Environmental Nutrition, 9(4), 523-534.
Simon, T.P., de Leon, B., Ehman, J., Henshel, D., Morris, C., Letsinger, S. & Olyphant, G. (working paper submitted September 2011). Assessment of Natural Resource Conditions for Indiana Dunes National Lakeshore [Great Lakes Restoration Initiative Project NPS #90; Great Lakes-Northern Forest Cooperative Ecosystem Studies Unit; Task Agreement # H6000082000].
Clark, F.S. & Slusher R.B. (2000). Using spatial analysis to drive reserve design: a case study of a national wildlife refuge in Indiana and Illinois. Landscape Ecology 15: 75-84.
Clark, F.S., Magnuson, T. & Slusher, R.B. (1999). Environmental assessment: Proposed Grand Kankakee Marsh National Wildlife Refuge. U.S. Fish and Wildlife Service.