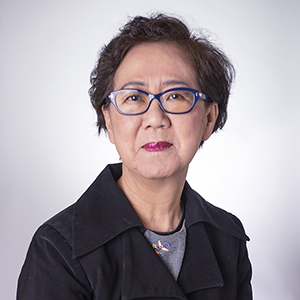 Noy Kay

Clinical Professor Emeritus
Education
Indiana University, H.S.D, 1987

Indiana University, M.S., 1982

Chulalongkorn University, M.Ed., 1973

Chulalongkorn University, B.Ed., 1971
Background
Chair, International Health Council, American School Health Association
Member, Award Committee, American School Health Association
Global Citizenship Awards from Indiana University
Short-Term Faculty Exchange Program at Chulalongkorn University
2003 School of Health, Physical Education, and Recreation Outstanding Teaching Award
2002, 2007 The Trustees Teaching Awards
1998 School of Health, Physical Education, and Recreation Teaching Excellence Recognition Award
Research Interests
Health Promotion for College Age and Adult, International Health Study, Suicide
Selected Publications
Articles
Kay, Noy S., Ertel, Megan, and Jantaraweragul, Sudgasame, "Sex Education in Thailand," submitted to The ICHPER.SD Journal of Research in Health, Physical Education, Recreation, Sport & Dance, April 30, 2010.
Kay, Noy S., Li, Kaigang, Xiao, Xia, Nokkaew, Nattiporn, and Park, Bock-Hee (2009). Hopelessness and Suicidal Behavior among Chinese, Thai, and Korean College Students and Predictive Effects of the World Health Organization's WHOQO- BREF, International Electronic Journal of Health Education, 12(January 30):1-17.
Kay, Noy S. and Nokkaew, Nattiporn (2009). Health Promotion in Educational Setting, Journal of Sports Science and Health, Vol 10, 2009.
Presentations
Kay, Noy S., Li, Kaigang, Hoang, Anvi, Park, Bock-Hee, Nokkaew, Nattiporn, Niu, Jingjing, "A Comparative Study of Suicide, Attitudes Toward Suicide and Death and Dying Among Chinese, Korean, Thai, Vietnamese High School Students," the 20th International Union Health Promotion and Education World Conference on Health Promotion, July 11-15, 2010, Geneva, Switzerland.
Kay, Noy S. "Contemporary Issues in Health Promotion: USA," Faculty of Education, Chulalongkorn University, December 20, 2008, Bangkok, Thailand.
Kay, Noy S., Li, Kaigang, Nokkaew, Nattiporn, and Park, Bock-Hee, "Using WHOQOL-BREF in Predicting Suicidal Behaviors," the 30th Annual Conference of Association for Death Education and Counseling (ADEC), April 30 - May 3, 2008, Montreal, Quebec, Canada.
Kay, Noy S., Ding, Kele, Jiang, Nan, Kato, Tara, Encarnacion-Garcia, Haydee, Masingboon, Khemaradee, and Nokkaew, Nattiporn, "Perspectives in Prenatal Care: An Assessment of Knowledge and Attitudes of College Students in the USA, Puerto Rico, Costa Rica, and Thailand," the Global Health Council's 33rd Annual International Conference on Global Health, Omni Shoreham Hotel, Washington, D.C., May 30-June 2, 2006.