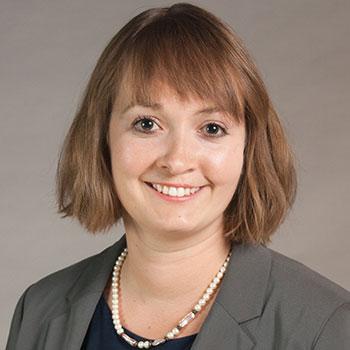 Research Associate

Sarah Murray

Research Associate
Education
Michigan State University, M.S. in Urban and Regional Planning, 2015

Western Michigan University, B. A. in Global and International Studies, 2009

Western Michigan University, B.A. in French, 2009
Background
Associate Director, Indiana University Office of International Development. August 2017 - October 2018

Program Assistant, C.S. Mott Foundation. August 2015 - August 2017
Graduate Research Assistant, Global Center for Food Systems Innovations, Michigan State University. June 2013 - May 2014
Development Specialist, Abonmarche Consultants, Inc. November 2010 - June 2013
Western Michigan University Department of World Languages and Literatures Alumni Achievement Award, 2018
American Institute of Certified Planners Outstanding Planning Student Award, 2015
Foreign Language Area Studies Fellowship for Swahili, awarded through the Michigan State University Center for Advanced Study of International Development (Summer 2014) and African Studies Center (Academic Year 2014-15).
Selected Publications
Articles
Messina, J., Adhikari, U., Carroll, J. Chikowo, R., DeVisser, M., Dodge, L., Fan, P., Langley, S., Lin, S., Me-nsope, N., Moore, N., Murray, S., et al. 2014. Population Growth, Climate Change and Pressure on the Land - Eastern and Southern Africa. 99
Messina, J.P. Suepa, T., Snapp, S., Olson, J.M., Nejadhasemi, A.P., Murray, S., et al. 2017. Food System Resilience and Sustainability in Cambodia. International Journal of Applied Geospatial Research. 8:3 Note 4