Patricia Silveyra will join other scholars to discuss strategies for increasing Hispanic/Latinx representation in science, technology, engineering, and mathematics.
ISUPH-B associate professor Patricia Silveyra is among several panelists who will participate in a virtual conversation about creating pathways for underrepresented minorities to pursue STEM (science, technology, engineering, and mathematics) training and careers. "Courageous Conversations," hosted by Global MindED, will begin at 4 p.m. eastern on September 23. 
"I am very excited to be part of this panel discussion," says Silveyra. "I look forward to sharing my experiences as a member of the Hispanic/Latinx STEM community, as a mentor of URM trainees, and as leader and representative of organizations like SACNAS, GWIS, and NASEM New Voices." Silveyra is the only member of the 2021–23 New Voices cohort who was appointed to the group for a second term.
Moderated by Paula Garcia Todd of Pharma Solutions, "Building the Talent Pipeline: Hispanic/Latinx Students in STEM" also includes thought leaders from Northeastern Illinois University, University of Texas at Arlington, and Penn State University.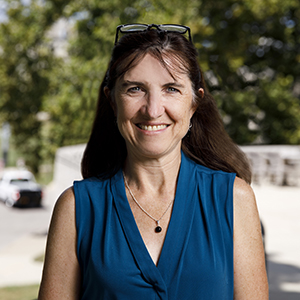 "Dr. Silveyra is a key force behind research that is critical to global efforts to improve public health," says Jacqueline MacDonald Gibson, chair of IUSPH-B's Department of Environmental and Occupational Health. "She is leading the way."
According to their website, GlobalMindED "closes the equity gap by creating a capable, diverse talent pipeline" by connecting inclusive role models and mentors with low-income, returning, and first-generation college students. Learn more at globalminded.org.
 To register for the September 23 discussion, visit bit.ly/3zXtOmy.