The Indiana University School of Public Health-Bloomington (SPH-B) was very pleased to commence its 2023–24 Distinguished Colloquium Series with none other than Victor Dzau, M.D., president of the National Academy of Medicine (NAM). The title of his presentation was "Science, Medicine and Society: A Brave New World."
"My dear friend and esteemed colleague Dr. Dzau was a giant in the field of regenerative medicine and cardiology long before he ever assumed the presidency at NAM," shared Dean David B. Allison in a recent conversation. "He is someone who aims to advance the field, science, knowledge, and our ability to help persons in need by leaps and bounds—not inches—at a time."
During his talk, Dr. Dzau introduced the NAM term "equity science." This concept urges leaders and innovators to consider—throughout the process of inventing or innovating products and procedures—how to make the result accessible to as many people as possible.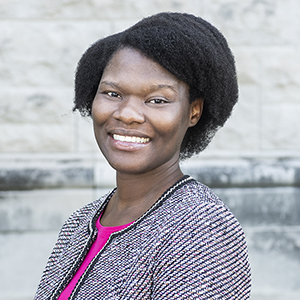 "[Dr. Dzau's] talk was right on point with the state of the science," says Sarah Commodore, Ph.D., assistant professor in the Department of Environmental and Occupational Health. "During interactions with him, he asked lots of questions, involved everyone at the table and demonstrated tons of experience in life and science."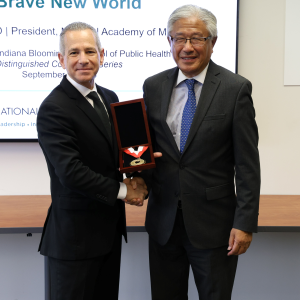 Following the talk, Dean Allison was pleased to present Dr. Dzau with the Dean's Medallion in recognition of his exceptional contributions to the advancement of public health.
"[Dr. Dzau] has made great strides within the Academy and using it as a platform, within science overall, to move it forward…especially in greater inclusion and diversity, promotion of the careers of young persons, and promoting truthful communication in—and understanding of—science," adds Dean Allison. "It is truly a personal privilege, honor, and for our university a great gift to have had him here within our fold for this visit."
See all 2023–24 Distinguished Colloquium Series presenters at go.iu.edu/4gWs. More news about SPH-B is always available at go.iu.edu/48bx.