In continued scientific exploration that is a hallmark of the Indiana University School Public Health (SPH-B), Dr. Misty Hawkins is among several authors of "Parents of Children with High Weight Are Viewed as Responsible for Child Weight and Thus Stigmatized" was published in Psychological Science, the highest ranked empirical journal in the field of psychology.
Dr. Hawkins, who joined the SPH-B Department of Health & Wellness Design in 2022, collaborated with Oklahoma State University's Devanshi Patel and Madison E. Stout, as well as Drs. Jaimie Arona Krems and Jennifer Byrd-Craven, on this timely and controversial topic.
"Pointing blame at parents' and people's individual choices as the primary cause of obesity is too simplistic, and we need to see the full picture of genetics, physiology, environment, and social determinants," says Dr. Hawkins.
Busting myths about obesity
According to the article abstract, courts in seven U.S. states have taken away custody rights of parents who were deemed to have "obese" children. This reality, combined with qualitative reports from parents of children with high weight (PoCHs), are driving the notion that PoCHs are "bad parents." However, there is little solid data on whether PoCHs are truly stigmatized. Through three social experiments conducted with U.S. online community participants, an attribution theory model was tested: Social perceivers attribute children's weights to parents and thus stigmatize those parents.
Dr. Krems, who bonded with Dr. Hawkins during their time at Oklahoma State together over mutual research interests, praises her as "a great collaborator."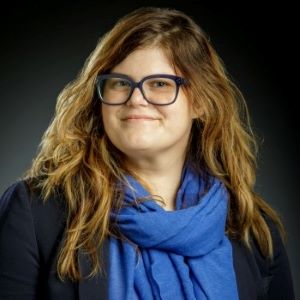 "It was a delight to work with Dr. Hawkins on this project," says Dr. Krems. "Her vast knowledge dealing in areas of weight and weight stigma—in which she's an expert—made for a better paper. For another, Dr. Hawkins is always up to date on best practices, keeping the language in the paper ethical and compassionate, and thus allowing it to reach a wider audience."
The two also have collaborated on National Institutes of Health (NIH)–funded weight stigma research.
"Working with Dr. Krems and her team on this paper was an honor and a pleasure. They are doing incredible work advancing the complex science of weight stigma," says Dr. Hawkins. "As someone who does clinical weight loss trials with people who have lived experience with weight stigma, I hope our findings highlight the complexity of obesity and how people attribute cause to this condition."
The paper may be read in its entirety at bit.ly/3Z4CN1e. News about SPH-B is always available at go.iu.edu/48bx.