Ph.D. candidate Katherine Jochim Pope of the Indiana University School of Public Health-Bloomington (SPH-B) was project manager and lead author the recently published article "Barriers, facilitators, and opportunities to promote healthy weight behaviors among preschool-aged children in two rural U.S. communities." Her co-authors include SPH-B Associate Professor Temitope Erinosho, was principal investigator (PI) on the study described in the article and conducted in collaboration with the University of North Carolina at Chapel Hill and Johns Hopkins University.
"The purpose was to identify challenges, facilitators/assets, and opportunities to promote healthy dietary and physical activity behaviors in children aged two–five years in two rural communities: Greene County, Indiana and Vance County, North Carolina," shared Pope in a recent conversation. "[They] were selected because they are rural and recognized as high-need communities with limited access to healthy foods and physical activity resources."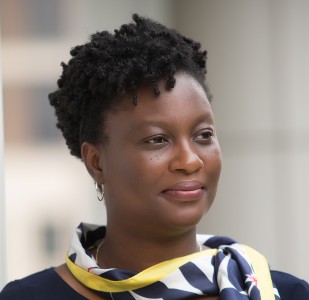 Pope says it was a natural decision because these areas were also where Dr. Erinosho and other members of the research team had existing community partnerships. During the course of the study, barriers to healthy lifestyles included "limited funding and poor parental engagement in health promotion programs" within community organizations, while at the family level it was "limited financial resources and competing priorities."
"Nevertheless," Pope adds, "ongoing health promotion efforts by childcare providers and organizations within the community were cited as assets." In the broader community, limited access to community resources that can support healthy eating (e.g., supermarkets) and physical activity (e.g., parks, organized sports), lack of public transportation, and poor access to clean drinking water in remote parts were barriers to healthy weight behaviors. Community level facilitators centered around available nutrition and physical activity resources (e.g., farmers' markets, parks), and ongoing investments by the county and private entities to create new infrastructure to promote physical activity and establish health promotion programs in the two rural communities.  
At the end of the study, Pope and Erinosho said the research team hosted workshops open to parents, guardians, childcare providers, and community organization representatives to help prioritize intervention strategies. Though the results of the study were not unexpected, Pope and her team were gratified to better understand community assets that can be leveraged to improve the overall health of children and families in Greene County and Vance County.
"Like many other community-based studies, recruiting study participants can be a challenge, but having supportive community partners and research collaborators helped a lot," says Pope. "While the funding for the study has ended, we have continued to explore ways to keep the community partners engaged."
To read more about how SPH-B faculty are making a difference in Indiana as well as nationwide, visit go.iu.edu/48bx.