Dr. Richard Holden, chair of the Indiana University School of Public Health-Bloomington (IUSPH-B) Department of Health & Wellness Design, is collaborating with Dr. Nicole Werner of the University of Wisconsin-Madison to develop an app for informal caregivers of people living with dementia. Helping the Helpers will enable those who assist the more than six million Americans living with Alzheimer's and other forms of dementia to better perform medication management tasks.

"It is important that we help caregivers assist loved ones with medications, as medication management is difficult yet critical to the health of persons with dementia," Holden says. "Technology, if properly designed and tested, can vastly improve the safety, efficiency, and effectiveness of dementia caregiving."

A team of researchers, including collaborators from IUPUI and the Regenstrief Institute, will interview and observe informal caregivers—even offering them the opportunity to co-design the app.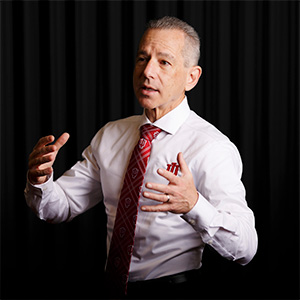 "All of us are aging," says IUSPH-B Dean David B. Allison. "Some of us will do so with grace, joy, and continued good function as we progress to a peaceful end. Others will experience prolonged functional decline, loss of independence, and diminishing quality of life. How may we achieve the former for all and the latter for none? This is the topic that Dr. Holden has taken on, and is too important to merit anything other than our full effort. I'm grateful that Dr. Holden is focusing on this important area—and the entire school, and I personally, stand ready to work with him and help address this important need."
Research and development of the app is supported by a grant from the National Institute on Aging (NIA), which is part of the National Institutes of Health (NIH). To learn more, visit nia.nih.gov.