The following is the text of an email sent to all IUSPH-B faculty, staff, and students on December 3, 2021.
Compassion, Drive, Commitment, Flexibility, Savvy, Wisdom, Humility, Perseverance, Integrity…and Fun. A leader who possesses all of these traits is a leader for all seasons. Such a leader is our colleague and friend, Professor David Koceja.
I write to announce that Dr. David Koceja has elected to complete his position as Chair of the Department of Kinesiology next year. Dr. Koceja will stay in the chair position until the end of 2022 or until a new chair is identified, whichever comes first. That is because—ever the leader, mentor, and all-around team player—he has committed to helping the new department chair transition into the role.
"I have enjoyed leading this outstanding department," Dr. Koceja says. "I am sincerely grateful to have been given the opportunity to lead such a wonderful group of colleagues. I truly enjoy the camaraderie of the faculty and staff in the department, and the challenge of collectively developing our department into one of the best in the country. My fondest memories will be the wonderful faculty and staff who inspired me to represent them to the best of my abilities."
Dr. Koceja has served as chair for 13 years, during which time the department has consistently risen in national rankings. In 2020, the National Academy of Kinesiology (NAK) raised its ranking—which is published every five years—to 11th in the country, up five places from its previous ranking. When that news was published, Dr. Koceja said, "It is a testament to the hard work of each and every one of our faculty that we were collectively recognized for our contributions to the kinesiology profession." That's the kind of leader David Koceja is. When his team shines, he humbly reminds us that good leaders value shared success over personal recognition.
I'll recognize thim, though: His funded research projects, totaling more than a million dollars, range from such critical topics as helping stroke survivors regain movement control to preventing falls among older adults. Always a helper, even in his research, David Koceja seeks to improve the lives of some of our most vulnerable friends and neighbors.
Since the day I arrived as Dean of the School of Public Health in 2017, David Koceja has been an absolute prince to work with. Knowing no one here, not knowing how things work, and needing some enthusiastic partners, I could not have found a better one than Dr. Koceja. His understanding of the past—and enthusiasm for the future—were the perfect combination. He has been a sage advisor, partner, leader, and friend all at once.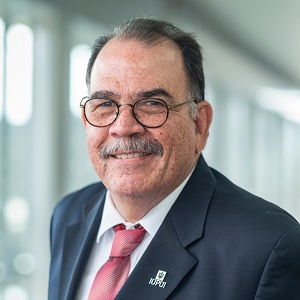 Indeed, his friendship and collegiality are boundless: Rafael Bahamonde, Founding Dean of the IUPUI School of Health and Human Sciences, says: "I have known Dave Koceja for close to 40 years. From the days when we were Ph.D. students at HPER, Dave has been a close friend, colleague, a person with integrity and fairness—somebody you can trust. He is well respected in the field of kinesiology and motor control. Dave has been a servant leader; a great collaborator who has dedicated his academic career to the IU and School of Public Health missions. Dave is and will continue to be an outstanding ambassador for the kinesiology field and School of Public Health-Bloomington."
Although I am sorry that I will not have the opportunity to work with him indefinitely in his role as Chair, he deserves the opportunity and time to pursue his science. I look forward to continuing to have him as a collaborator. I'm also grateful that he is committed to helping us find a strong replacement for him and to staying in the role until that replacement is found. We will seek somebody to help us take the school and the Department of Kinesiology to an ever-brighter future with an ever-stronger focus on kinesiology as a health science via the most meaningful scientific and educational experiences.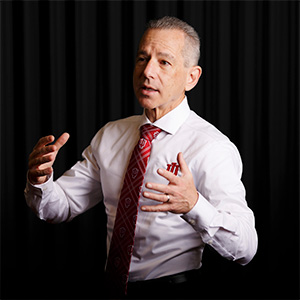 I am grateful for all that Dr. Koceja has done to elevate the Department of Kinesiology, and am thrilled to continue to count him among our outstanding faculty.

Sincerely,
David B. Allison, Ph.D.
Dean