Douglas Landsittel is among a select group named to this distinction.
Douglas Landsittel, professor and chair of Indiana University School of Public Health-Bloomington (IUSPH-B)'s Department of Epidemiology and Biostatistics, is one of only 48 members of the American Statistical Association (ASA) to be named a Fellow of the organization. According to a statement by the ASA, the honor is reserved for ASA members who demonstrate "professional contributions, leadership, and commitment to the field of statistical science."
"I am humbled and honored to be elected as an ASA Fellow," Dr. Landsittel says. "Over the years, I have been privileged to work with several ASA Fellows who are accomplished leaders in our profession. I am sincerely thankful to be similarly recognized by my colleagues."

ASA Fellows are selected from hundreds of annual nominations. The association selects Fellows who—among other criteria—have participated in ASA initiatives, published a significant amount of research, and are highly regarded in other membership organizations.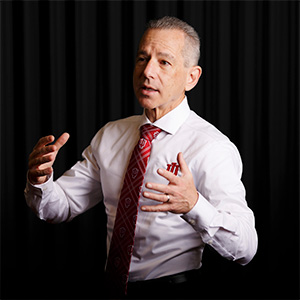 "Dr. Landsittel is eminently deserving of fellowship in the American Statistical Association, and is now the fourth ASA Fellow in our department!" says IUSPH-B Dean David Allison. "This honor is one of the most profound accolades in a statistician's career. I look forward to many more years of watching Dr. Landsittel promote statistical science, help others experience the beauty and wonder of statistical science, and improve public health and safety through science."
The ASA describes itself as "the world's largest community of statisticians," and provides connection to statistics experts throughout the world in a variety of disciplines including academia, private industry, and government. Members work to promote research, support informed statistical procedures, and improve the quality of human lives.

Learn more about ASA Fellows at bit.ly/3FY57KK. News about IUSPH-B is always available at go.iu.edu/48bx.