The Indiana University Board of Trustees recently approved the appointment of Douglas Landsittel, chair of the IUSPH-B Department of Epidemiology and Biostatistics, to the James A. Caplin, M.D. Chair in Evidence-Based Public Health. He received the distinction "in recognition of his outstanding collegiality, scholarly acumen, and research leadership, and his devotion to both rigorous evidence-based public health and to studying access to and efficacy and quality of healthcare, including health promotion and disease promotion in underserved populations."
"I am deeply appreciative of the contributions from the Caplin family to promote evidence-based public health and support the research of our department," Dr. Landsittel says. "Much of my career has focused on evidence for healthcare interventions and underserved communities, including investigations of agricultural hazards and collaborations with Minority- and Hispanic-Serving Institutions. It is an honor to receive this recognition; I look forward to continue collaborating across our school to leverage the endowed chair and further contribute to the areas of research that Dr. Caplin so passionately supported."

The estate of IU alumnus Dr. James A. Caplin endowed the faculty chair position in 2020 to promote healthcare access, particularly among rural populations. A three-time alumnus of Indiana University, Caplin specialized in allergy-immunology and was a published medical author. He also belonged to the American Academy of Allergy, Asthma & Immunology; The American College of Allergy, Asthma & Immunology; the American Medical Association; the Texas Medical Association; the Nueces County Medical Society; and the National Psoriasis Foundation. He died in 2017.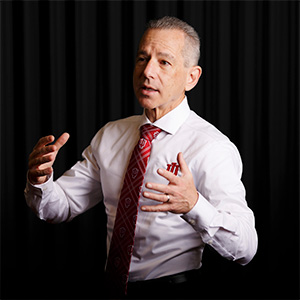 "Our school's tagline is 'It's About Knowing,' because conjecture is good, but knowing is better," says IUSPH-B Dean David Allison. "This undergirds the concept of evidence-based public health. We are enormously grateful for the generosity of the Caplin family for this endowment, and equally proud to offer it to as esteemed and rigorous a scholar as Dr. Douglas Landsittel. Doug's work in statistical methods; randomized controlled trials; kidney disease; promoting data science among underrepresented minorities; and his caring leadership of his department's students, faculty, and staff make him eminently deserving of and an outstanding representative of this named honor."
Landsittel's background includes a Ph.D. in biostatistics from the University of Pittsburgh. He is the current chair of the Safety and Occupational Health Study Section for the Centers for Disease Control and Prevention. He also serves as director of the Discovery Data Coordinating Center (Discover-DCC) for the Society of Critical Care Medicine.
To learn more about the James A. Caplin, M.D. Chair in Evidence-Based Public Health, visit go.iu.edu/4eLE. News about IUSPH-B is always available at go.iu.edu/48bx.