Dr. Kevin Maki, adjunct professor in the Indiana University School of Public Health-Bloomington (SPH-B) Department of Applied Health Science, will begin his term as president of the National Lipid Association (NLA) at the organization's upcoming Scientific Sessions, June 2–5. In a break from precedent, Dr. Maki has been NLA president-elect for 23 months as a result of the COVID-19 pandemic.
As president, Dr. Maki will lead the organization as it educates and advocates for improved clinical management of imbalances that lead to diseases of the heart and other organs, often from extremely high triglycerides.
"I hope to help the organization with several objectives," Dr. Maki says. "Among these are enhancing connections with other organizations that have similar missions, including the Academy of Nutrition and Dietetics and the American College of Cardiology."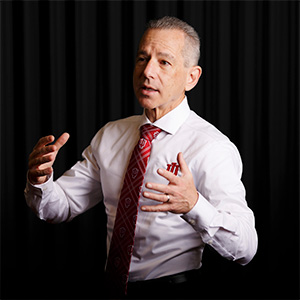 "Our school's tagline is 'It's About Knowing,' because conjecture is good, but knowing is better," says SPH-B Dean David Allison. "Dr. Maki typifies this view and infuses it into his every action. In his role as president of NLA, we know that he will focus on advancing knowledge through the dissemination and promotion of rock-solid science. It is on that foundation that true knowledge can be built—and health can be advanced. We are lucky to have Dr. Maki among our scholars and leading this esteemed scientific society." 
Along with establishing strong inter-organizational partnerships, Dr. Maki says he also hopes to increase clinician awareness of specific issues including obesity management as a means to address elevated cholesterol and other conditions. He also plans to "emphasize the contributions of all team members who address cardiovascular health"—including physicians, nurses, dieticians, and pharmacists—as well as promote interventions for cardiovascular risk reduction in both clinical and public health contexts.
Learn more about the NLA at lipid.org. News about IUSPH-B is always available at go.iu.edu/48bx.