Luis Mestre will serve as chair of the ASA's Section for Statistical Progammers and Analysts.
Luis Mestre, a Ph.D. student at the Indiana University School of Public Health-Bloomington (IUSPH-B), was recently named 2023 chair-elect of the American Statistical Association (ASA) Section for Statistical Programmers and Analysts (SSPA). Mestre will serve in this role for one year.
Created in 2007 to increase the representation of statistical programmers and analysts in ASA membership, SSPA had eight members at the time of its founding. By 2017, SSPA counted more than 1,200 ASA members among its ranks. According to their charter, SSPA aims to encourage discussion of "programming concepts, theories, and techniques that are used for statistical analysis; activities that affect statistical programming work; and career paths for members." SSPA also maintains relationships with other ASA sections to promote ASA's impact as a leader in statistical science as it affects industry, government, and academia around the world.
"I'm grateful to all the people who voted for me and supported me in this process," Mestre says. "Being the section chair-elect is a responsibility and an opportunity to promote rigor, reproducibility, and transparency; as well as diversity and inclusion. Amplifying the voices of students and experts from different backgrounds is critical to finding solutions to current and future challenges."
According to their website, ASA is the second-oldest continually functioning professional society in the U.S. In the broadest sense, its mission is to "promote the practice and profession of statistics," which it does through hundreds of chapters, dozens of national committees, and nearly 30 sections.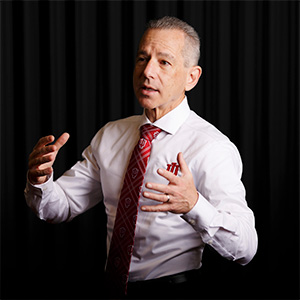 "Luis Mestre continues to impress," says IUSPH-B Dean David Allison. "His devotion to the field and willingness to help others are building blocks for his elevated reputation and very promising career. I applaud his initiative and thank him for his for continued excellence in the School of Public Health-Bloomington and beyond."

To learn more about the ASA, visit amstat.org. News about IUSPH-B is always available at go.iu.edu/48bx.