The funding allows IU students and faculty to continue efforts to protect and promote Indiana's underwater heritage.
For the fourth consecutive year, the Indiana Department of Natural Resources has awarded funds to the Indiana University School of Public Health-Bloomington (SPH-B) for continued research and preservation of the Muskegon (Indiana's first shipwreck listed on the National Register of Historic Places), and monitoring of the J.D. Marshall Nature Preserve in Indiana Dunes State Park.

According to the SPH-B Center for Underwater Science funding proposal, current necessary work includes removing and installing buoys; visual site assessment to produce recommendations for the upcoming year; and updating interpretive materials such as plaques, brochures, and dive guides.
"We are extremely proud of this collaboration between the Indiana DNR and Indiana University," says Charles Beeker, director of the IU Center for Underwater Science. "This partnership represents the only formal agreement between the DNR and IU, and we look forward to continuing over 20 years of work to protect Indiana's maritime heritage. This agreement and funding will provide avenues for further exploration of Indiana shipwrecks, training opportunities for undergraduate education, and will allow the Center for Underwater Science to continue to build stewardship of our precious maritime cultural heritage."
This latest round of funding will also enable a team of seven divers to make at least two, multiple-day trips to the Michigan City area to "perform site enhancement and underwater imagery."
Much of Beeker's professional work is dedicated to protecting underwater artifacts so they can be safely observed by the public. During his tenure as director, the Center for Underwater Science has helped establish state parks and shipwreck preserves both in the U.S. and abroad. The site of the Muskegon, first located in the 1960s after sinking in the early 20th century, has been a rich resource for IU students to hone their underwater diving skills—in addition to cultivating knowledge and expertise on historic preservation of underwater relics.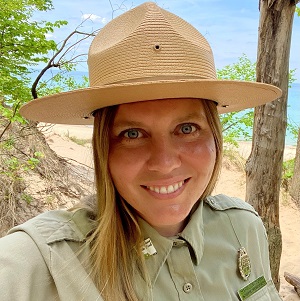 "He just doesn't stop accomplishing!" declares Indiana Dunes State Park Interpretive Naturalist Marie Laudeman, who has worked for four years with Beeker on his preservation activities. "His efforts have made significant improvements to interpretive materials visited by more than 100,000 guests every year."

"He has a wonderful willingness to share his knowledge. On his visits, he makes an effort to introduce students to our Nature Center and exhibits so they can see the importance and impact of their work. It's clear that he inspires them make the best better by improving our exhibit displays and the protection of the J.D. Marshall Shipwreck," Laudeman adds.
To learn more about the Center for Underwater Science, visit underwaterscience.indiana.edu. News about SPH-B is always available at go.iu.edu/48bx.