Nicole Werner, associate professor in the Indiana University School of Public Health (SPH-B) Department of Health & Wellness Design, has been granted the title of Dean's Eminent Scholar. According to SPH-B Dean David Allison, this distinction was established several years ago to honor faculty for achievements that exceed what is expected in the academic community, "even in leading modern 21st century schools of public health."

The title is held by only four other SPH-B faculty members: Drs. Richard Holden, Douglas Landsittel, Kevin Maki, and Javier Rojo.
Dr. Holden, who serves as chair of the Department of Health & Wellness Design, commends Dr. Werner for her extraordinary work—stating that it is "highly practical," spans a variety of disciplines, and includes grant-funded initiatives totaling $24 million. "At this early juncture in her career," he says, "Dr. Werner has profoundly influenced social science and practice at the intersection of caregiving and system design."

Dr. Werner holds a master's degree and Ph.D. in psychology, focusing on human factors and applied cognition, from George Mason University. Her research interests include applying human-centered design to technology interventions to "improve the health and well-being of individuals and communities, particularly among older and vulnerable populations and their care partners."

"I'm very honored to receive this distinction," Dr. Werner says, adding that it is remarkable "to be included in a group of such distinguished colleagues."

"I'm grateful to my mentors, research collaborators, and all the amazing Werner lab students and research staff, past and present," she concludes.
Prior to joining SPH-B, Dr. Werner held several teaching, research, and leadership positions at the University of Wisconsin-Madison. She is a Leadership Institute Fellow of the Society of Behavioral Medicine, president of Division 21 of the American Psychological Association, and serves on the editorial board for Applied Ergonomics.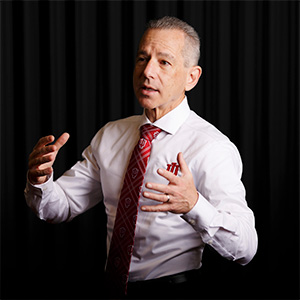 "None of us are getting any younger," says Dean Allison. "Our older population is booming in number. The field is booming in new discoveries, new ideas, and new ambitions. New sources of funding are emerging. There has never been a better time to prioritize geroscience. Dr. Nicole Werner is just who we need to help us rise to this challenge. Under the leadership of Rich Holden, our school is experiencing an explosion of intellectual activity on this topic and I'm thrilled that Nicole Werner is a 'co-detonator' of this explosion."
To learn more about Dr. Nicole Werner, visit go.iu.edu/4BYQ. News about SPH-B is always available at go.iu.edu/48bx.