Miriam Jocelyn Rodriguez, Ph.D., an associate professor in the Department of Health & Wellness Design who joined the Indiana University School of Public Health-Bloomington (SPH-B) in August 2022 has been awarded a diversity supplement grant from the National Institute on Aging (NIA) to help fund her research work on caregiver support; specifically Hispanic/Latino families who have loved ones diagnosed with Alzheimer's disease and related dementia (ADRD). This funding is a supplement to an NIA-funded R01 randomized control trial, with Drs. Richard Holden and Malaz Boustani as the principal investigators, titled I-CARE 2 RCT: Mobile Telehealth to Reduce Alzheimer's-related Symptoms for Caregivers and Patients.  The parent grant aims to test the effectiveness of an ADRD telehealth intervention, Brain CareNotes, a mobile telehealth application to support caregivers in managing behavioral and psychological symptoms of dementia and reduce burden.
Rodriguez will receive $75,000 every year for two years as part of this supplement. During this study period she aims to recruit Hispanic participants to the parent study and collect information on usability and acceptance of the intervention, as well as unique needs experienced by the Hispanic caregiver participants. She will also continue to receive mentorship and work under her mentors: Department Chair Richard Holden, Ph.D.; Dean's Eminent Scholar Nicole Werner, Ph.D., and IU School of Medicine Richard M. Fairbanks Professor of Aging Research Malaz A. Boustani, M.D.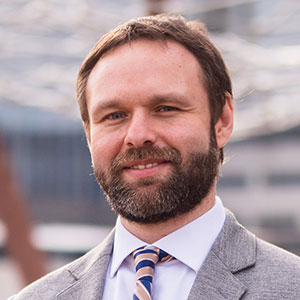 "Hispanic and Latino caregivers report more psychological depression symptoms and poor mental health compared to white non-Hispanic caregivers," Rodriguez shared in a recent conversation. "Overall, Hispanics have less access to treatment and healthcare that is culturally appropriate for them, such as being in their primary language."
Rodriguez adds that this ties into health literacy issues, where often Hispanic family members will have a delayed diagnosis of ADRD because they don't recognize the symptoms or think that it is just part of normal aging.
"All my research has been focused on Hispanic/Latino populations before coming [to IU]; on examining cultural factors as they relate to Alzheimer's disease risk and cognitive decline and protection against those diseases," says Dr. Rodriguez. "But I have always been interested in getting involved with caregiver interventions—I have a personal interest in that, as I have family who was diagnosed with dementia, and I saw first-hand the need and lack of resources available for Latino/Hispanic caregivers."
The data that Rodriguez collects for this Diversity Supplement will be used as preliminary data for a larger grant proposal to translate and culturally adapt Brain CareNotes into Spanish to make it more accessible to this specific cultural group.
But there is still work to be done.
"It is not just the language—caregivers and patients being able to interact with healthcare professionals from similar cultural backgrounds is very important," says Dr. Rodriguez. "There is a difference in the family structure among Hispanics vs. American culture—America is a very independent culture and Hispanics are collectivists in nature, so everyone in the whole family is involved in the care of the patient."
In addition to shedding light on the specific caregiver needs of this minority ethnic group, the diversity supplement grant provides important career development opportunities for Rodriguez in her field of expertise.
"Dr. Rodriguez is a trailblazer. She will be among the first to conduct rigorous research on technology among Hispanic ADRD caregivers," remarks Dr. Holden. "Her expertise, the resources provided by the parent trial, NIA diversity supplement, and her mentor team together position Dr. Rodriguez to continue an impactful career working with this at-risk population."
Read more about how the women of SPH-B are taking the lead and making an impact both locally and worldwide here.