The Indiana Department of Natural Resources (DNR) has awarded a $65,768 Lake Michigan Coastal Grant to the Indiana University School of Public Health-Bloomington for continued research on the Muskegon, Indiana's first shipwreck listed on the National Register of Historic Places.
According to a funding proposal by the school's Center for Underwater Science, the ongoing study helps identify "strategies to develop the shipwreck as a marine protected area and underwater preserve appropriate for public interpretation."
"I am extremely pleased this grant enables IU collaboration with Indiana DNR to promote and protect our maritime heritage as represented by our historic shipwrecks in Lake Michigan," said center director Charles D. Beeker. "In an academic setting, training IU students in use of scuba is not just recreational; rather, it provides students with scientific diving skills—which enables them to become involved in meaningful underwater research projects."
Beeker is passionate about protecting underwater artifacts so they can be safely observed by the public. In his time as director, the center has helped establish state parks and shipwreck preserves in Florida, California, the Dominican Republic, and the Cayman Islands.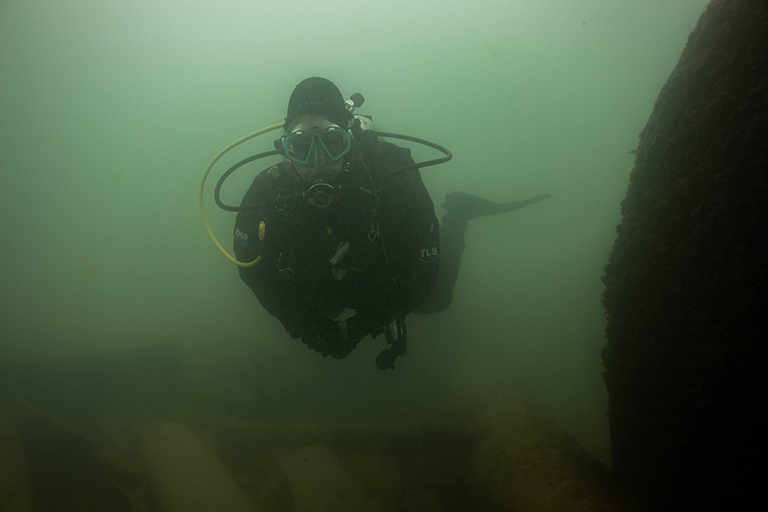 "As archaeologists, our work is so often divorced from our own heritage and local history…[especially] when you're an underwater archaeologist in a landlocked state," added Samuel Haskell, assistant director of the Center for Underwater Science. "The opportunity to work in our own state to help protect and study our shared maritime heritage is such a meaningful experience for our students and faculty."
Dean David B. Allison said, "Charlie Beeker and his research team are among both the rarest and most precious of gems in our school. Their work reminds me again and again of the joy of wonder, the thrill of discovery, and why so many of us felt the call to science and research. That Clinical Professor Beeker and his team can pursue that joy and thrill while simultaneously doing good for our environment, our society's cultural opportunities, and our students' educational opportunities is a tribute to his acumen and a gift to us all. In a word, cool!"
The project was made possible by a grant from the National Oceanic and Atmospheric Administration and the Indiana Department of Natural Resources' Lake Michigan Coastal Program.
To learn more about the Center for Underwater Science, visit underwaterscience.indiana.edu.