Dr. Jacqueline MacDonald Gibson leads research team in the use of specialized data tools to predict water-based lead exposure in children.
New research led by Jacqueline MacDonald Gibson, chair of the Indiana University School of Public Health-Bloomington (IUSPH-B) Department of Environmental and Occupational Health, suggests that lead in drinking water can increase children's blood lead, even when water lead concentrations meet regulatory requirements under the Safe Drinking Water Act.
The study linked blood lead measurements for nearly 41,000 children to water quality information for the water systems serving those children. Using advanced machine-learning techniques, the researchers found that children getting their water from systems with more lead had above-average blood lead concentrations, compared to children getting their water from systems with less lead. "Our findings suggest that the 'lead crisis' in U.S. drinking water may be at once less overt and more prevalent" than previously recognized, say the researchers. The study was released recently in the journal Environmental Research.
"This research underscores the need for water infrastructure funding to identify and remove lead service lines and other lead sources in water systems," says Dr. MacDonald Gibson. "By using advanced machine-learning techniques, we were able to identify patterns of lead exposure risk from water systems that are otherwise difficult to detect. Our results can help to prioritize water systems where infrastructure funding is most needed to prevent the devastating effects of children's exposure to lead in water."
Collaborators from the University of North Carolina at Chapel Hill, Wayne State University, and the Washington, D.C.–based Environmental Working Group contributed to the study, which was funded by the National Science Foundation.
"It is a novel idea to use Bayesian networks to pair such important information," says Diana Thomas, professor of mathematics at The U.S. Military Academy at West Point. "Bayesian networks are advantageous because they distill the number of parameters required and at the same time identify complex relationships in the data."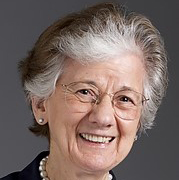 Dr. Rita Colwell, former director of the National Science Foundation and member of the IUSPH-B Dean's Alliance, adds, "This research is both timely and relevant because safe drinking water is of prime importance in an era of climate change. The approach developed by Dr. MacDonald Gibson and her team will allow cost-effective determination of the safety of municipal water supplies with respect to child health and development."
To learn more about Dr. MacDonald Gibson's research, visit go.iu.edu/47x9. More IUSPH-B news is available at go.iu.edu/461I.