Luis Mestre is a Ph.D. student at the Indiana University School of Public Health-Bloomington.
In its March 17 edition, Diverse: Issues in Higher Education will name Indiana University School of Public Health-Bloomington (IUSPHB) Ph.D. student Luis Mestre to its latest cohort of Diverse Rising Graduate Scholars. Described as "ten exceptional graduate students based on standout scholarship thus far and their current trajectory toward a very promising future in academia and beyond," the group was chosen from hundreds of applications sent by students throughout the United States.
"I'm humbled by this honor," Mestre says. "In a word, I'm grateful—to Diverse: Issues in Higher Education, as well as to my teachers, mentors, and loved ones who have supported me through this fun, challenging adventure called graduate school."
"I'm also grateful to IUSPH-B for their support throughout the years."
Founded as the School of Health, Physical Education and Recreation in 1921, SPH-B was renamed in 2012 to better reflect its expanding curriculum and focus on research, including undergraduate and graduate programs in applied health science, environmental and occupational health, epidemiology and biostatistics, health and wellness design, and kinesiology. It is home to one of the only accredited undergraduate U.S. programs in epidemiology. For his part, Mestre is pursuing a Ph.D. in epidemiology with a concentration in data science.
"The Department of Epidemiology and Biostatistics is honored to have Mr. Luis Mestre as one of our outstanding Ph.D. students," says department Chair Douglas Landsittel. "In addition to his academic accomplishments, Mr. Mestre has also contributed to many professional and school-related functions and has shown outstanding leadership skills. He will undoubtedly have a bright future in research!"
According to their website, Diverse: Issues in Higher Education has been "the preeminent source of critical news, information and insightful commentary on the full range of issues concerning diversity in American higher education" for more than 30 years.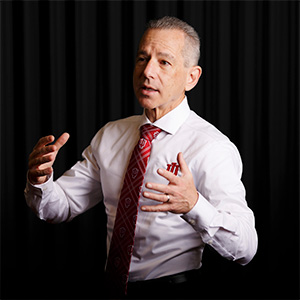 "Working with Luis reminds that our students make it all worthwhile—we learn together, we wrangle with ideas," says Dean David Allison, Luis' major professor. "We ask 'Why?' We ask 'How?' We share the beauty of wonder. Luis' joy learning and commitment to beneficence are truly gifts."
Learn more about Diverse: Issues in Higher Education at diverseeducation.com. News about IUSPH-B is always available at go.iu.edu/48bx.