The Indiana University Board of Trustees has approved naming Patricia Silveyra, associate professor and interm chair of the Indiana University School of Public Health (SPH-B) Department of Environmental and Occupational Health, the Anthony D. Pantaleoni Eminent Scholar. This distinction provides Dr. Silveyra with resources for research, including projects on which she often collaborates with students.
Dr. Anthony Pantaleoni, a two-time SPH-B alumnus and member of the SPH-B Dean's Alliance, established the endowed fund in 2021, making Dr. Silveyra its inaugural recipient. His career in environmental safety administration has inspired him to support research and education in the areas of health, safety, and the environment.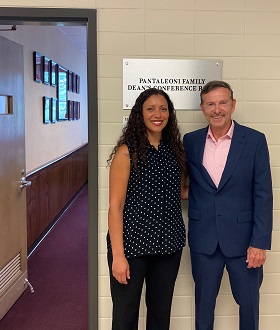 "I feel very privileged to receive this recognition," Dr. Silveyra says. "I plan to use the resources afforded by this honor to continue to provide opportunities for our students to participate in research projects and acquire valuable skills for their careers. This award will also enhance our research mission to better understand the damaging effects of inhaled pollutants in the male and female lung."

In addition to naming Dr. Silveyra the first Anthony D. Pantaleoni Eminent Scholar, IUSPH-B recently renamed its centrally located meeting space the Pantaleoni Family Dean's Conference Room.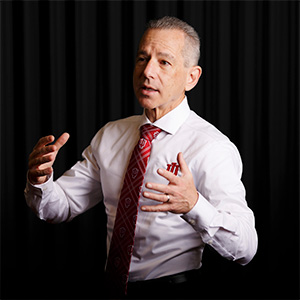 Dean David B. Allison expresses his gratitude and enthusiasm: "Paying it forward and back—working together across domains and generations—two profoundly energized, generous persons have come together to help our school, advance knowledge, promote public health and safety, and offer richer experiences for our students. Dr. Pantaleoni has been a generous contributor to our school for many years with his funds, time, and perspicacity. Professor Silveyra is also a prolific contributor through her research, mentoring, and promotion of others. We are so fortunate to now see their efforts intertwined for even greater impact."
IUSPH-B is consistently named among the top U.S. schools of public health and is in the process of growing both its faculty roster and its physical spaces (including labs, classrooms, test kitchens, and more). To learn about supporting IUSPH-B, visit go.iu.edu/4tgZ. More news about the school is always available at go.iu.edu/48bx.