The Linda L. Thiel Doctoral Student Support Fund will support conference attendance and related professional activities.
John and Linda Thiel proudly held five degrees from Indiana University Bloomington. After earning her B.S. and M.B.A., Linda went on to work for Eli Lilly for 25 years, where she provided analytical support for drug trials. When she died of complications from multiple sclerosis in 2000, it was less than a year before her husband John, a decorated Vietnam veteran with three IU degrees of his own, traveled to the Bloomington campus to establish the first of several scholarships and funds bearing her name.

The latest, the Linda L. Thiel Doctoral Student Support Fund, is designed to specifically to support Indiana University School of Public Health-Bloomington (SPH-B) doctoral students in biostatistics.

"Linda and I agreed to use our estate to promote education," Dr. Thiel says. "When I learned of the establishment of a doctoral program in biostatistics at the IU School of Public Health-Bloomington, I immediately saw it as an opportunity to help not only students, but also the program and the school. It felt like a big win."

Scholarships available to doctoral students through SPH-B, Indiana University, and beyond are sometimes restricted to specific educational costs such as tuition, fees, books/learning materials, and room and board. The intent of the Linda L. Thiel Doctoral Student Support Fund, however, is to help students pursuing a Ph.D. in biostatistics pay for conference travel and professional presentation activities that are often required for their degree program.
"The pursuit of a doctoral degree comes with a substantial cost, and students in our biostatistics program will find that load a little bit lighter thanks to Dr. Thiel's investment in their education," says Bob Nolan, SPH-B executive director of development. "His generosity will provide ongoing funding to supplement our students' development as professionals in the field of biostatistics. The establishment of this fund is a fitting tribute to the memory of his wife Linda, and we're grateful for his partnership in our mission."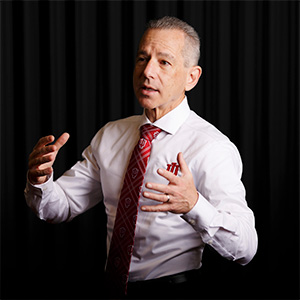 Nolan adds that funds from the newly established fund could be available to students as soon as the upcoming academic year.

SPH-B Dean David Allison offers, "Everyone is unique. Dr. John Thiel is uniquely wonderful. To say that his gift uplifts me is a vast understatement. There are many ways to lead; Dr. Thiel leads by inspiration and example. His gift is already amplified by others joining to contribute to students in biostatistics. It is especially noteworthy that Linda Thiel, for whom John has named this, provided analytical support for research trials. The lending of her name to this topic of scholarship is a poignant reunion."
Learn more about the Department of Epidemiology and Biostatistics at go.iu.edu/4rKS. News about SPH-B is always available at go.iu.edu/48bx.