Indiana University School of Public Health-Bloomington (SPH-B) Dean David B. Allison was recently elected a U.S. member of The International Statistical Institute (ISI). The organization is dedicated to maintaining rigorous standards of ethical practice in statistical science.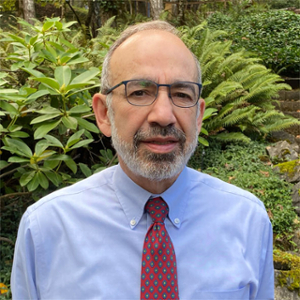 Dean Allison joins Professor Javier Rojo—Dean's Eminent Scholar in the Department of Epidemiology and Biostatistics—as only the second SPH-B scholar to be elected to ISI. Dr. Rojo said in a recent conversation, "The ISI is an outstanding independent international statistical organization that sets global standards for ethical practice in statistics, offers high-quality scientific content, and supports the development of statisticians from across the globe. Being elected to membership is an honorary title in recognition, by his peers, of the significant contributions that Dr. Allison has made to statistics. Election to membership is decided by the ISI Elections Committee and requires the support of several elected members."
Dean Allison was nominated for election by Alumni Distinguished Professor Joseph G. Ibrahim in the Department of Biostatistics at the University of North Carolina (UNC) and Ira V. Hiscock Professor of Biostatistics Hongyu Zhao, Ph.D. at the Yale School of Public Health.
In his nomination letter, Ibrahim echoes the vision of ISI, stating that Dean Allison over the course of his career has been "very involved in calling for increased rigor and transparency" in scientific statistical research, and "is known for his unwavering commitment to the unflinching promotion of rigorous science through the unvarnished truthful presentation of data, and the questioning of popular but not necessarily empirically supported beliefs." One such recent example of this was Dean Allison's work as a head researcher on the effectiveness of lactation cookies on human milk production.

"I am humbled by this honor," Dean Allison says. "I join Professor Rojo from our department as an elected member of this academic society where being elected as a member requires a powerful nomination and a commitment and endorsement by one's peers that one has achieved some degree of stature in and has a career that portends future contributions that are meaningful benefits to the statistical science community. That my peers, Drs. Ibrahim and Zhao, endorsed me for these characteristics is perhaps the greatest tribute of all.

"I thank my colleagues for nominating me," he adds, "I thank the institute for electing me and offering me this opportunity to contribute further, and I thank all of my many mentors, friends, colleagues and students who have helped me achieve whatever modicum of success in statistical science I have achieved over the years."

Dr. Rojo asserts that the international aspect of this elected membership award will continue to support the high-quality reputation of SPH-B's Department of Epidemiology and Biostatistics—as well as the school overall—to a global audience.

"It will impact the position of the school and the department in national rankings, while also facilitating the recruitment of strong students, faculty and the acquisition of extramural funding," he says.
Read more about how SPH-B faculty are making a difference both locally and worldwide.