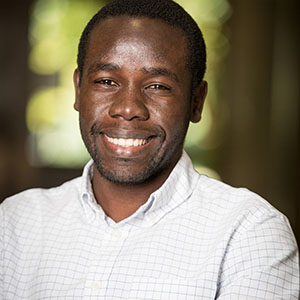 Faculty

Arthur Owora

Gallahue Family Professor in Child Development
Assistant Professor
Open Research and Contributor Identifier
Department
Epidemiology and Biostatistics
Education
Children's Hospital Research Institute, University of Manitoba, Canada, Postdoctoral Fellowship, 2016

University of Oklahoma Health Sciences Center, Ph.D. Biostatistics & Epidemiology, 2015

University of Oklahoma Health Sciences Center, MPH Biostatistics & Epidemiology, 2009

Makerere University, Kampala, Uganda, B.S. Statistics & Applied Economics, 2005
Background
Recent Honors and Awards
Gallahue Family Professor in Child Development, Indiana University School of Public Health, 2021
Learning Health System (LHS) Young Investigator Award (funded under NIH K12HS026390), 2021
National Institute of Heart, Lung, and Blood Institute (NHLBI) PRIDE Scholar, 2021
Editor's Choice Article Award, October 2021. Journal: Pediatric Allergy and Immunology, 2021
Mosaic Faculty Fellow. Indiana University, 2020
Current Grant Funding
K12HS026390 — Carroll/Embi (MPI), 09/30/2018 - 09/29/2023
Leveraging Infrastructure to Train Investigators in Patient Centered Outcomes Research in the Learning Health System (LITI-PCORLHS). Research Topic: Development of a Childhood Asthma Risk Passive Digital Marker in a Learning Health System Framework
Role: LHS Scholar (LHS Young Investigator Award)
R03HD104841 — Walsh-Buhi (PI), 09/21/2021 - 09/20/2022
The Esthetician's Perspectives and Practices Study: The objective of this proposed project is to build on the Sexual Health and Estheticians (SHE) Study, focusing on estheticians who serve men, and determine the acceptability of/feasibility for a salon-based intervention.
Role: Co-investigator / Biostatistician
R01DK129936 — Kishore (PI), 07/01/2021 - 06/30/2026
Pharmacotherapy in conjunction with lifestyle counseling for management of weight regain after bariatric surgery (PROJECT-BARI). A 12-month, double-blind, RCT to examine the efficacy of anti-obese pharmacotherapy (topiramate and phentermine) on reversing weight regain in subjects with bariatric surgery.
Role: Co-investigator / Biostatistician
R01HL159764 — Silveyra (PI), 07/01/2021 - 06/30/2025
Sex and gender disparities in the severity and frequency of asthma exacerbations have been extensively reported, yet the biological and hormonal basis of these differences have not been elucidated. This application will investigate the mechanisms by which estrogen triggers inflammation in the male and female asthmatic lung to determine the molecular basis of hormonal triggers of asthma exacerbations in cis and transgender women and lead to the future development of better personalized therapeutic options for lung disease.
Role: Co-investigator / Biostatistician
R21DC017787 — Riley (PI), 09/23/2020 - 08/31/2023
Improving aphasia outcomes through transcranial direct current stimulation (tDCS) -mediated attention management. This is an innovative RCT study intervention that will test the hypothesis that participants with aphasia who receive behavioral attention training paired with active anodal tDCS to dorsolateral prefrontal cortex (DLPFC) will demonstrate significantly greater improvement on a behavioral measure of attention than participants who receive behavioral attention training paired with sham tDCS.
Role: Co-investigator / Biostatistician (PI: Indiana University Sub-contract)
R01AG069765 — Boustani/Galvin/Ben Miled (PI), 09/01/2020 - 05/31/2025
Digital Detection of Dementia Studies (D cubed Studies). The primary goal of the D cubed Studies is to evaluate the predictive performance of two low-cost approaches for the early detection of Alzheimer's Disease and related dementias using patient-reported outcome data, and to evaluate the practical utility and effect of the Passive Digital Marker and the Quick Dementia Rating Scale methods in improving the annual rate of new documented ADRD diagnosis in primary care practices.
Role: Co-investigator / Biostatistician
Selected Publications
Articles
Golzarri-Arroyo L, Dickinson SL, Jamshidi-Naeini Y, Zoh RS, Brown AW, Owora AH, Li P, Oakes JM, Allison DB. (2022). Evaluation of the type I error rate when using parametric bootstrap analysis of a cluster randomized controlled trial with binary outcomes and a small number of clusters. Computer Methods and Programs in Biomedicine, 106654. doi: https://doi.org/10.1016/j.cmpb.2022.106654
Tobias J, Olyaei A, Laraway B, Jordan BK, Dickinson SL, Golzarri-Arroyo L, Fialkowski E, Owora AH, Scottoline B. Bifidobacterium infantis EVC001 Administration Is Associated With a Significant Reduction In Incidence of Necrotizing Enterocolitis In Very Low Birth Weight Infants. J Pediatr. 2022 Jan 12: S0022-3476(21)01277-4. PMID: 35032555
Owora AH, Tepper RS, Ramsey CD, Chan-Yeung M, Watson WTA, Becker AB. Transitions between alternating childhood allergy sensitization and current asthma states: A retrospective cohort analysis. Pediatr Allergy Immunol. 2022 Jan;33(1): e13699. PMID: 34799887
Owora AH, Tepper RS, Ramsey CD, Becker AB. Decision tree-based rules outperform risk scores for childhood asthma prognosis. Pediatr Allergy Immunol. 2021. Oct;32(7):1464-1473. PMID: 33938038.
Kibalama Ssemambo P, Nalubega-Mboowa MG, Owora AH, Serunjogi R, Kironde S, Nakabuye S, Ssozi F, Nannyonga M, Musoke P, Barlow-Mosha L. Virologic response of treatment experienced HIV-infected Ugandan children and adolescents on NNRTI based first-line regimen, previously monitored without viral load. BMC Pediatr. 2021 Mar 22;21(1):139. PMID: 33752636
Parker MA, Zoh RS, Nelson EJ, Owora AH. Correlates of disparities in syringe return ratios: A cross-sectional study of a syringe services program in New York. Journal of Substance Abuse Treatment. 2021 Feb; 121:108193. doi: 10.1016/j.jsat.2020.108193. Epub 2020 Nov 5. PMID: 33357603.
Owora AH, Zhang Y*. Prognostic accuracy of existing childhood asthma predictive models: Meta-analysis and Comments on Kothalawala et al. Pediatr Allergy Immunol. 2021 Feb;32(2):389-392. PMID: 33012009.
Owora AH, Zhang Y*. Childhood wheeze trajectory-specific risk factors: a systematic review and meta-analysis. Pediatr Allergy Immunol. 2021 Jan;32(1):34-50.
Riley EA, Owora AH. Relationship Between Physiologically Measured Attention and Behavioral Task Engagement in Persons with Chronic Aphasia. Journal of Speech, Language, and Hearing Research. 2020 Apr 23:1-16.
Kmush BL, Ehrlich J, Owora AH, Walia B, Sanders S. Preliminary Analysis of the Association between Mortality and Position among National Football League Players. JAMA Netw Open. 2020 May 1;3(5): e204442. PMID: 32391891
Azad MB, Owora AH. Do early-life antibiotic exposures predispose children to obesity? JAMA Network Open. 2020;3(1): e1919694-e1919694
Onyango-Makumbi C, Owora AH, Mwiru RS, et al. Extended prophylaxis with Nevirapine does not affect growth in HIV exposed infants. Journal of Acquired Immune Deficiency Syndromes. 2019; 82(4): 377-385
Gonzalez L, Kassem M, Owora AH, Cardounell S, Monita M1, Brangman S, Gahtan V. Frailty and Biomarkers of Frailty Predict Outcome in Veterans After Open and Endovascular Revascularization. Journal of Surgical Research. 2019; 243: 539-552
Riley EA, Owora AH, McCleary J, Anderson A. Sleepiness, Exertion Fatigue, Arousal, and Vigilant Attention in Persons with Chronic Aphasia. American Journal of Speech and Language Pathology. 2019; 28(4):1491-1508.
Zadeh RS, Owora AH, Pham Y, Jiang NZ. Sociodemographic and job characteristics influence environmental strategies used to manage workplace sleepiness. Journal of Occupational and Environmental Medicine. 2019; 61(12): 955-963
Owora AH, Carabin H, Garwe T, Anderson M. Are we validly assessing major depression disorder risk and associated factors among mothers of young children? PLOS One. 2019; 14(1): e0209735.
Owora AH, Kmush BL, Walia B, Sanders SD. A systematic review of etiologic risk factors proximally associated with early mortality among National Football League players. Orthopaedic Journal of Sports Medicine. 2018; 6(12): e2325967118813312.
Matovu JN, Owora AH, Onyango C, Mubiru M, Motevalli-Oliner M, Musoke P, Nolan M, Fowler MG. Comparative effects of three methods of promoting breastfeeding among human immunodeficiency virus-infected women in Uganda: a parallel randomized clinical trial. International Health. 2018;10(6):430-441
Owora AH, Salaam N, Leed SR, Bergen-Cico D, Jennings-Bey T, Haygood A, Rubinstein RA, and Lane SD. Culturally congruent mentorship can reduce disruptive behavior among elementary school students: results from a pilot study. Pilot and Feasibility Studies. 2018; 4: e147
Owora AH, Becker AB, Chan-Yeung M, Chan SE, Chooniedass R, Ramsey C, Watson TAW, Azad MB. Wheeze trajectories are modifiable through early-life intervention and predict asthma in adolescence. Pediatric Allergy and Immunology. 2018; 29: 612-621
Owora AH. Major depression disorder trajectories and HIV disease progression: results from a six-year outpatient clinic cohort. Medicine. 2018; 97 (12): e0252
Owora AH. Diagnostic validity and clinical utility of HbA1c tests for Type 2 diabetes mellitus. Current Diabetes Reviews. 2018; 14(2): 196-199
Owora AH, Carabin H. Impact of misclassification error in the estimation of maternal major depression disorder prevalence in home visitation programs. Psychiatry Research. 2018; 261: 80-87
Zadeh RS, Shepley MM, Owora AH, Dannenbaum MC, Waggener LT, Chung SSE. The Importance of Specific Workplace Environment Characteristics for Maximum Health and Performance: Healthcare Workers' Perspective. Journal of Occupational and Environmental Medicine. 2018; 60(5): e245-252
Sagah Zadeh R, Shepley M, Sadatsafavi H, Owora AH, Krieger AC. Alert Workplace From Healthcare Workers' Perspective: Behavioral and Environmental Strategies to Improve Vigilance and Alertness in Healthcare Settings. Health Environment Research & Design Journal. 2018; 11(2): 72-88
Ridings L, Beasley L, Bohara S, Daer J, Owora AH, Silovsky JF. Longitudinal Investigation of Depression, Intimate Partner Violence, and Supports among Vulnerable Families. Journal of Interpersonal Violence. 2018; 33(24):3749-3771.