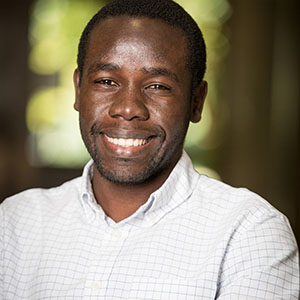 Faculty

Arthur Owora

Assistant Professor
Open Research and Contributor Identifier
Education
Children's Hospital Research Institute, University of Manitoba, Canada, Postdoctoral Fellowship, 2016

University of Oklahoma Health Sciences Center, Ph.D. Biostatistics & Epidemiology, 2015

University of Oklahoma Health Sciences Center, MPH Biostatistics & Epidemiology, 2009

Makerere University, Kampala, Uganda, B.S. Statistics & Applied Economics, 2005
Background
Gallahue Family Professor in Child Development Award, 2021
Selected Publications
Articles
Ridings L, Beasley L, Bohara S, Daer J, Owora AH, Silovsky JF. Longitudinal Investigation of Depression, Intimate Partner Violence, and Supports among Vulnerable Families. Journal of Interpersonal Violence. 2018; 33(24):3749-3771.
Sagah Zadeh R, Shepley M, Sadatsafavi H, Owora AH, Krieger AC. Alert Workplace From Healthcare Workers' Perspective: Behavioral and Environmental Strategies to Improve Vigilance and Alertness in Healthcare Settings. Health Environment Research & Design Journal. 2018; 11(2): 72-88
Zadeh RS, Shepley MM, Owora AH, Dannenbaum MC, Waggener LT, Chung SSE. The Importance of Specific Workplace Environment Characteristics for Maximum Health and Performance: Healthcare Workers' Perspective. Journal of Occupational and Environmental Medicine. 2018; 60(5): e245-252
Owora AH, Carabin H. Impact of misclassification error in the estimation of maternal major depression disorder prevalence in home visitation programs. Psychiatry Research. 2018; 261: 80-87
Owora AH. Diagnostic validity and clinical utility of HbA1c tests for Type 2 diabetes mellitus. Current Diabetes Reviews. 2018; 14(2): 196-199
Owora AH. Major depression disorder trajectories and HIV disease progression: results from a six-year outpatient clinic cohort. Medicine. 2018; 97 (12): e0252
Owora AH, Becker AB, Chan-Yeung M, Chan SE, Chooniedass R, Ramsey C, Watson TAW, Azad MB. Wheeze trajectories are modifiable through early-life intervention and predict asthma in adolescence. Pediatric Allergy and Immunology. 2018; 29: 612-621
Owora AH, Salaam N, Leed SR, Bergen-Cico D, Jennings-Bey T, Haygood A, Rubinstein RA, and Lane SD. Culturally congruent mentorship can reduce disruptive behavior among elementary school students: results from a pilot study. Pilot and Feasibility Studies. 2018; 4: e147
Matovu JN, Owora AH, Onyango C, Mubiru M, Motevalli-Oliner M, Musoke P, Nolan M, Fowler MG. Comparative effects of three methods of promoting breastfeeding among human immunodeficiency virus-infected women in Uganda: a parallel randomized clinical trial. International Health. 2018;10(6):430-441
Owora AH, Kmush BL, Walia B, Sanders SD. A systematic review of etiologic risk factors proximally associated with early mortality among National Football League players. Orthopaedic Journal of Sports Medicine. 2018; 6(12): e2325967118813312.
Owora AH, Carabin H, Garwe T, Anderson M. Are we validly assessing major depression disorder risk and associated factors among mothers of young children? PLOS One. 2019; 14(1): e0209735.
Gonzalez L, Kassem M, Owora AH, Cardounell S, Monita M1, Brangman S, Gahtan V. Frailty and Biomarkers of Frailty Predict Outcome in Veterans After Open and Endovascular Revascularization. Journal of Surgical Research. 2019; 243: 539-552