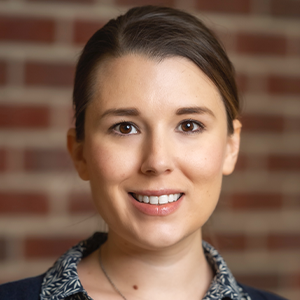 Faculty

Angela G. Campbell

Assistant Professor
Open Research and Contributor Identifier
Department
Applied Health Science
Education
The Pennsylvania State University, Ph.D., 2018

The Pennsylvania State University, M.A., 2013

Columbia University, M.P.H., 2010

Texas Christian University, B.A., 2007
Background
2022- present: Assistant Professor, School of Public Health, Applied Health Science, Indiana University, Bloomington
2019-2022: Postdoctoral Research Associate, Pediatric Health Services Research, Indiana University School of Medicine
Grants
2022-2023: Principal Investigator, "Investigating Best Practices for Research Recruitment and Retention Among Reproductive Aged Black Women (18-44) With Opioid Use Disorder" (Indiana University Addictions Grand Challenge)
2020-2022: NIH/NCATS TL1 Postdoctoral Fellowship, "Examining Post-Discharge Treatment Outcomes of Opioid Exposed Infants," Indiana Clinical and Translational Sciences Institute, Indiana University School of Medicine (TL1TR00253)
Scholarly Interest
Dr. Campbell is a population health researcher specializing in maternal and child health. Her work focuses on health equity and structural causes of disadvantage in high risk and marginalized groups within the health care system. She currently has two ongoing projects. The first is focused on the identification, and care of opiate exposed infants using electronic health records. The second examines racial disparities in the prevention, screening and diagnosis of pre-eclampsia.
Selected Publications
Articles
View full publication list at Google Scholar
Campbell, A. G., & Miranda, P. Y. (2018). Breastfeeding Trends Among Very Low Birth Weight, Low Birth Weight, and Normal Birth Weight Infants. The Journal of pediatrics, 200, 71-78.
Snipes, S. A., Campbell, A. G., & Miranda, P. Y. (2019). The role of acculturation and training in personal protective equipment (PPE) use among Hispanic farmworkers: A follow-up from the Protejase! study. Health Behavior Research, 2(1), 6.
Campbell, Angela G, & Hillemeier, Marianne (2021) Fertility Counseling Information Adequacy as a Moderator of Regret Among Adolescent and Young Adult Breast Cancer Survivors. Supportive Care in Cancer, 29(5).