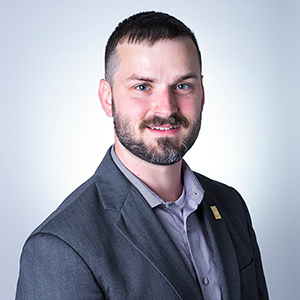 Faculty

Andrew Brown

Assistant Professor
Open Research and Contributor Identifier
Department
Applied Health Science
Education
University of Alabama at Birmingham, Postdoc, 2014

University of Nebraska - Lincoln, Ph.D., 2011

Iowa State University, M.S., 2008

Iowa State University, B.S., 2007
Background
Scientific Program Committee - American Society for Nutrition, 2016-2018
Chair - Basic Science Section of The Obesity Society, 2016-2017
Chair-elect, Chair, and Past-chair - Obesity Research Interest Section of the American Society for Nutrition, 2015-2018
R25 Grant: "Beyond textbook, yet simple, statistical tools for reproducible animal research" - 2015-2018
Section Councilor - Ethics Section of the American Public Health Association, 2015-2018
Dannon Institute Nutrition Leadership Institute, 2015
Early Career Representative - Public Affairs Committee of The Obesity Society, 2014-2016
Research Interests
Dr. Brown is an Assistant Professor with the Department of Applied Health Science in the School of Public Health Bloomington, Indiana University. Formally trained in nutrition, biochemistry, and statistics, he brings practical, basic science experience to evaluating how nutrition and obesity research is conducted and communicated. His recent work involves investigating myths and presumptions in nutrition and obesity literature, meta-analyzing studies about nutritional influences on obesity, characterizing reporting practices that may perpetuate nutrition misinformation, and crowdsourcing the synthesis of published research. Dr. Brown has received local, regional, and national awards and spoken internationally about integrity in research reporting and science communication with respect to nutrition and obesity research.
Selected Publications
Articles
Allison DB, Brown AW, George BJ, Kaiser KA. Reproducibility: A tragedy of errors. Nature. 2016 Feb 4;530(7588):27-9.Brown AW, Li P, Bohan Brown MM, Kaiser KA, Keith SW, Oakes JM, Allison DB. Best (but often forgotten) practices: designing, analyzing, and reporting cluster randomized controlled trials. American Journal of Clinical Nutrition. 2015 Aug;102(2):241-8.
Unscientific Beliefs about Scientific Topics in Nutrition. Brown AW, Ioannidis JPA, Cope MB, Bier DM, Allison DB. Advances in Nutrition. September 2014 5(5):563-565.Brown AW, Allison DB. Using crowdsourcing to evaluate published scientific literature: methods andexample. PLoS One. 2014 Jul 2;9(7):e100647.
Brown AW, Bohan Brown MM, Allison DB. Belief beyond the evidence: using the proposed effect of breakfast on obesity to show 2 practices that distort scientific evidence. American Journal of Clinical Nutrition. 2013 Nov;98(5):1298-308.
Casazza K, Fontaine KR, Astrup A, Birch LL, Brown AW, Bohan Brown MM, Durant N, Dutton G, Foster EM, Heymsfield SB, McIver K, Mehta T, Menachemi N, Newby PK, Pate R, Rolls BJ, Sen B, Smith DL Jr, Thomas DM, Allison DB. Myths, presumptions, and facts about obesity. New England Journal of Medicine. 2013 Jan31;368(5):446-54.
Books
Brown AW, Bohan Brown MM. Critical Evaluation of Nutrition Research. In book: Nutrition in Lifestyle Medicine, Publisher: Springer International Publishing, Editor: James M. Rippe, pp.103-116.