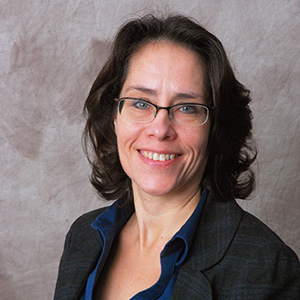 Faculty

Barbara Hocevar

Associate Professor
Open Research and Contributor Identifier
Department
Environmental and Occupational Health
Education
Cleveland Clinic Foundation, PD, 1996

Case Western Reserve University, Ph.D., 1993

John Carroll University, M.S., 1989

Kent State University, B.S., 1984
Background
2005-present - Associate Member, Indiana University Cancer Center, Indianapolis, IN
2005-2010 - Assistant Professor, Department of Pharmacology and Toxicology, Indiana University School of Medicine, Indianapolis, IN
2000-2004 - Project Staff, Department of Cell Biology, Cleveland Clinic Foundation, Cleveland, OH
1996-2000 - Research Associate, Department of Cell Biology, Cleveland Clinic Foundation, Cleveland, OH
1993-1996 - Research Fellow, Department of Cell Biology, Cleveland Clinic Foundation, Cleveland, OH
1989-1993 - Graduate Student, Dept. of Pharmacology, Case Western Reserve University School of Medicine, Cleveland, OH
1987-1989 - Graduate Student/Teaching Assistant, Chemistry Dept., John Carroll University, University Hts., OH
Selected Publications
Articles
Prunier, C., Hocevar, B.A., and Howe, P.H. (2004) Wnt signaling: Physiology and pathology. Growth Factors., 22: 141-150.
Hocevar, B.A., Prunier, C., and Howe, P.H. (2005) Disabled-2 (Dab2) mediates TGF--stimulated fibronectin synthesis through TAK1 and activation of the JNK pathway. J. Biol. Chem., 280: 25920-25927.
Klaunig, J.E., Kamendulis, L.M., and Hocevar, B.A. (2010) Oxidative stress and oxidative damage in carcinogenesis. Toxicol. Pathol. 38: 96-109.
Davoli, A., Hocevar, B.A., and Brown, T.L. (2010) Progression and treatment of HER2-positive breast cancer. Cancer Chemother. Pharmacol., 65: 611-623.
Gokmen-Polar, Y., Toroni, R.A., Hocevar, B.A., Badve, S., Zhao, Q., Shen, C., Bruckheimer, E., Kinch, M., and Miller, K.D. (2010) Dual targeting of EphA2 and ER restores tamoxifen sensitivity in ER/EphA2-positive breast cancer. Breast Cancer Res Treat. In press.