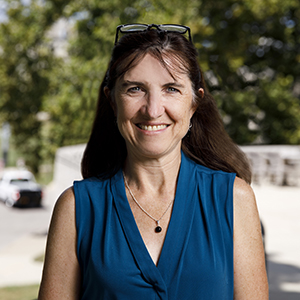 Faculty

Jacqueline MacDonald Gibson

Department Chair, Environmental and Occupational Health
Professor
Education
Carnegie Mellon University, Ph.D., Engineering and Public Policy, 2007

Carnegie Mellon University, Ph.D., Civil and Environmental Engineering, 2007

University of Illinois at Urbana-Champaign, M.S., Environmental Science in Civil Engineering, 1990

Bryn Mawr College, B.A., Mathematics, 1986
Background
Professor, Environmental Sciences and Engineering, School of Public Health, University of North Carolina at Chapel Hill, Feb. 1-July 31, 2019
Associate Professor, Environmental Sciences and Engineering, School of Public Health, University of North Carolina at Chapel Hill, 2014-Jan. 31, 2019
Assistant Professor, Environmental Sciences and Engineering, School of Public Health, University of North Carolina at Chapel Hill, Jul. 1 2007-December 31, 2013
National Science Foundation Graduate Research Fellowship, 2003-2006
Senior Engineer, RAND Corp., 2003-2007
Associate Director, Water Science and Technology Board, National Research Council, 1997-1999
Research Associate, Staff Officer, and Senior Staff Officer, Water Science and Technology Board, National Research Council, 1990-1996
Courses Currently/Recently Taught
Environmental Risk Assessment
Environmental Decision Analysis
Water-Health Research
Research
Dr. Gibson's research addresses the science of environmental risk assessment and decision-making. Much of her research has arisen from questions raised by policymakers and communities, from local health departments to national agencies.
Selected Publications
Articles
MacDonald Gibson, J., and K. J. Pieper. 2017. Strategies to improve private well water quality: A North Carolina perspective. Environmental Health Perspectives 125(7):07600.1-07600.9. DOI: 10.1289/EHP890.
Stillo, F., and J. MacDonald Gibson*. 2017. Exposure to contaminated drinking water and health disparities in North Carolina. American Journal of Public Health 107(1):180-185. DOI: 10.2105/AJPH.2016.303482.
DeFelice, N., J. Johnston, and J. MacDonald Gibson*. 2016. Reducing emergency department visits for acute gastrointestinal illnesses in North Carolina (USA) by extending community water service. Environmental Health Perspectives 54(10):1583-1591. DOI: 10.1289/EHP160.
Zabinski, J. W., G. Garcia-Vargas, M. Rubio-Andrade, R. C. Fry, and J. MacDonald Gibson*. 2016. Advancing dose-response assessment methods for environmental regulatory impact analysis: a Bayesian belief network approach applied to inorganic arsenic. Environmental Science & Technology Letters 3(5):200-204.
MacDonald Gibson, J., D. Rodriguez, T. Dennerlein, J. Mead, T. Hasch, G. Meacci, and S. Levin. 2015. Predicting urban design effects on physical activity and public health: a case study. Health and Place 35(September):79-84. DOI: 10.1016/j.healthplace.2015.07.005.
MacDonald Gibson, J., N. DeFelice, D. Sebastian, and H. Leker. 2014. Racial disparities in access to community water supply service in Wake County, North Carolina. Frontiers in Public Health Services and Systems Research 3(3): article 6. DOI: 10.13023/FPHSSR.0303.06.
Books
MacDonald Gibson, J., A. Brammer, C. Davidson, T. Folley, F. Launay, and J. Thomsen, eds. 2013. Environmental Burden of Disease Assessment: A Case Study in the United Arab Emirates. Dordrecht, The Netherlands: Springer. ISBN 978-97-007-5924-4 (hard copy), 978-94-007-5925-1 (eBook). DOI 10.1007/978-94-007-5925.1. 521 pp. Available: http://www.amazon.com/Environmental-Disease-Assessment-Science-Technology/dp/940075924X
8623