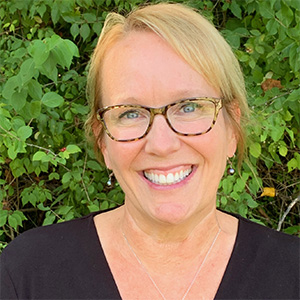 Faculty

Julie Knapp

Clinical Assistant Professor
Department
Health & Wellness Design
Education
Indiana University, Ph.D., Leisure Behavior, 2000

Indiana University, M.S., 1997

University of Nebraska, B.S., 1991
Background
Indiana University SPH Trustees Teaching Award, 2020 and 2018
Indiana University Mosaic Faculty Fellow, 2016
Indiana Park and Recreation Association Educator of the Year-2012 and Professional of the Year-2018
Director of Indiana University's Executive Development Program for Park and Recreation Professionals
Department Internship Coordinator
Faculty instructor with Indiana University Sustaining Hoosier Communities Initiative
Chair of the Indiana Park and Recreation Association Certification and Education Committee
Scholarly Interest
Pedagogy; Active Learning; Parks and Recreation's link to community health and wellness; Continuing Education; High Impact Learning Practices and Student Learning; Leadership and Management
Selected Publications
Articles
Bent, T., Knapp, J., & Robinson, J. (2020). Evaluating the Effectiveness of Teaching Assistants in Active Learning Classrooms. Journal of Learning Spaces, 9 (2), 103-118.
Knapp, J. (2020). High impact practices in the classroom: Innovative projects promoting recreation technology use and partnerships through a rural engagement initiative. Proceedings of Papers Presented at The Academy of Leisure Sciences (TALS) 2020 Conference, Champaign, Il.
Knapp, J. (2018). Making an Impact: Reverse Mentoring with Millennial and Gen Z Interns. Impact. Cooperative Education and Internship Association.
Books
Knapp, J. (2014). Career Perspectives. Publisher: Great River Technologies: E-Textbook-ISBN #: 978-1-61549-843-7
Presentations
Knapp, J. (February, 2020). Less Lecture more HIPS- High Tech and Rural Engagement in One Semester. 2020 E.C. Moore Symposium on Excellence in Teaching. Indianapolis, IN: IUPUI.
Knapp, J., Parr, M., Stutzman, J., & Watson, L., (September, 2019). Internships: Creating a Triple Win Experience for Students, Agencies and Universities. 2019 NRPA National Congress Education Session, Baltimore, MD: NRPA.
Knapp, J., and West-McMaster, Brandi. (July, 2020) COVID-19 and the Impact on Internships - a Story of Creativity, Flexibility and Support from Professionals in the Field. The Academy of Leisure Sciences Webinar.