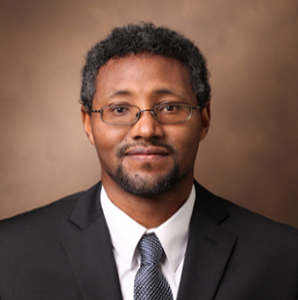 Faculty

Kedir Turi

Assistant Professor
Open Research and Contributor Identifier
Department
Epidemiology and Biostatistics
Education
Illinois University Champaign-Urbana, Ph.D., 2015

Illinois University Champaign-Urbana, MSC, 2012

Wageningen University, MSC, 2009
Background
2023 - present : Assistant Professor, School of Public Health, Indiana University, Bloomington, IN
2018 - 2023 : Research Assistant Professor, School of Medicine, Vanderbilt University, Nashville, TN
2015 - 2018 : Postdoctoral Research Fellow, School of Medicine, Vanderbilt University, Nashville, TN
Scholarly Interests
Dr. Turi's primary research goal is to understand how potentially modifiable environmental exposures during pregnancy and early childhood contribute to the development of asthma and allergy syndromes in children. He is specifically interested in understanding the harmful impacts of exposures such as respiratory infections, medications, diet, and environmental pollutants on the developing metabolic and immune systems mediating childhood asthma development.
Dr. Turi conducts collaborative research and is involved in cohorts and consortiums following children longitudinally to study childhood exposures and chronic respiratory disease development including the NIH-supported Environmental Influences on Child Health Outcomes (ECHO) consortium. He is currently funded by an NIH NHLBI career development grant seeking to launch an elite translational research program focused on identifying endotypes of allergy and wheeze and molecular pathways linking exposure to diseases development by integrating high-dimensional omics data such as genetic, metabolic, and immune-response data. Such a program would incorporate systems approaches to immunology, metabolomics, and genomics, and microbiome. He has also recently developed an interest in understanding the socioeconomic and molecular root of sex and racial disparity in respiratory diseases throughout life.
Selected Publications
Articles
Google Scholar link for full publication: https://scholar.google.com/citations?user=y51bEgkAAAAJ&hl=en
Turi KN, Christoph MJ, Grigsby-Toussaint DS. Spatial distribution of underweight, overweight and obesity among women and children: Results from the 2011 Uganda Demographic and Health Survey. Int J Environ Res Public Health 2013; 10(10):4967-81.
Turi KN, Buchner DM, Grigsby-Toussaint DS. Predicting the risk of Type 2 Diabetes by using data on easy-to-measure risk factors. Prev Chronic Dis. 2017; 14:E23
Turi KN, Grigsby-Toussaint DS. Spatial spillover and the socio-ecological determinants of diabetes-related mortality across US counties. Applied Geography. 2017; 85:62-72.
Turi KN, Romick-Rosendale L, Ryckman KK, Hartert TV. A review of metabolomics approaches and their application in identifying causal pathways of childhood asthma. J Allergy Clin Immunol. 2017; 141(4):1191-1201
Turi KN, Gebretsadik T, Hartert T, Lee RL, Evans A, Sicignano NM, Wu AC, Iribarren C, Butler MG, Mitchel E, Morro, J, Larkin E., Wu P. Seasonal pattern of asthma medication fills among diverse US populations. J Asthma 2017; 7:1-7.
Turi KN, Shankar J, Anderson LJ, Rajan D, Gaston K, Gebretsadik T, Das SR, Stone C, Larkin EK, Rosas-Salazar C, Brunwasser SM, Moore ML, Peebles RSJ, Hartert TV. The infant respiratory syncytial virus nasal-immune-response signature and association with subsequent childhood recurrent wheeze. Am J Respir Crit Care Med. 2018; 198(8):1064-1073.
Turi KN, Romick-Rosendale L, Gebretsadik T, Watanabe M, Brunwasser S, Anderson LJ, Moore ML, Larkin EK, Peebles RS, Hartert TV. Using urine metabolomics to understand the pathogenesis of infant respiratory syncytial virus (RSV) infection and its role in childhood wheezing. Metabolomics 2018, 14(10):135.
Turi KN, Wu P, Escobar GJ, Gebretsadik T, Ding T, Walsh EM, et al. Prevalence of infant bronchiolitis-coded healthcare encounters attributable to RSV. Health Science Reports 2018; 1(12): e91.
Turi KN, Gebretsadik T, Ding T, Abreo A, Stone C, Hartert TV, Wu P. Dose, timing, and spectrum of prenatal antibiotic exposure and risk of childhood asthma.Clinical Infectious Disease 2021; 72 (3): 455-462.
Turi KN, McKennan C, Gebretsadik T, Snyder B, Seroogy CM, Lemanske Jr RF, Zoratti E, Havstad S, Ober C, Lynch S, McCauley K. Unconjugated bilirubin is associated with protection from early-life wheeze and childhood asthma. J Allergy Clin Immunol. 2021; 148(1):128-38
Turi KN, Michel CR, Manke J, Doenges KA, Reisdorph N, Bauer AK. Multi-Omics Analysis of Lung Tissue Demonstrates Changes to Lipid Metabolism during Allergic Sensitization in Mice. Metabolites 2023 Mar 9;13(3):406