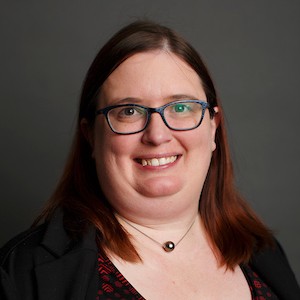 Faculty

Kelli Ryckman

Associate Dean for Research
Professor of Epidemiology and Biostatistics
Open Research and Contributor Identifier
Department
Epidemiology and Biostatistics
Education
University of Iowa, Postdoctoral Fellow, 2011

Vanderbilt University, Ph.D., 2009

Vanderbilt University, M.S., 2009

Iowa State University, B.S., 2003
Background
2022 — present: Professor, Indiana University School of Public Health — Bloomington
2021 — 2022: Professor, University of Iowa
2016 — 2021: Associate Professor, University of Iowa
2012 — 2016: Assistant Professor, University of Iowa
2011 — 2012: Assistant Research Scientist, University of Iowa
2003 — 2004: Research Technician, BioForces Nanosciences, Ames, IA
Scholarly Interest:
Dr. Ryckman is a perinatal epidemiologist with expertise in statistics, genetics, and metabolomics. Her research has applied a variety of statistical methodologies including the use of genetic risk scores, predictive modeling, and meta-analysis for analyzing pregnancy complications including preeclampsia, gestational diabetes, and preterm birth. She has established a successful research program that includes several national and international data sources and a large repository of biologic specimens. Her current work focuses broadly on two areas:
neonatal morbidity and mortality and
maternal morbidity and mortality.
An ongoing project is to use targeted metabolic profiling to predict major neonatal morbidity and mortality in babies born less than 32 weeks gestation. She is also examining how neonatal metabolic profiles can predict neurodevelopmental, spatial and numerical skills and respiratory and cardiovascular outcomes in babies born preterm. Her current work on maternal morbidity and mortality has been focused on four areas:
improving data measurement and reporting,
identifying obstetrical and health system risk factors,
examining social determinants and disparities including maternal mental health, and
engaging community and stakeholder perspectives in implementation of interventions.
Selected Publications
Articles
Simonovich SD, Nidey NL, Gavin AR, Piñeros-Leañ o M, Hsieh WJ, Sbrilli MD, Ables-Torres LA, Huang H, Ryckman K, Tabb KM. Meta-Analysis Of Antenatal Depression And Adverse Birth Outcomes In US Populations, 2010-20. https://www.ncbi.nlm.nih.gov/pubmed/34606360/ Health Aff (Millwood). 2021 Oct;40(10):1560-1565. doi: 10.1377/hlthaff.2021.00801. PubMed PMID: 34606360.
Momany AM, Jasper E, Markon KE, Nikolas MA, Ryckman KK., Latent class analysis to characterize neonatal risk for neurodevelopmental differences. https://www.ncbi.nlm.nih.gov/pubmed/35837724/ J Child Psychol Psychiatry. 2022 Jul 15;. doi: 10.1111/jcpp.13671. [Epub ahead of print] PubMed PMID: 35837724.
Jasper EA, Oltman SP, Rogers EE, Dagle JM, Murray JC, Kamya M, Kakuru A, Kajubi R, Ochieng T, Adrama H, Okitwi M, Olwoch P, Jagannathan P, Clark TD, Dorsey G, Ruel T, Jelliffe-Pawlowski LL, Ryckman KK., Targeted newborn metabolomics: prediction of gestational age from cord blood. https://www.ncbi.nlm.nih.gov/pubmed/35067676/ J Perinatol. 2022 Feb;42(2):181-186. doi: 10.1038/s41372-021-01253-w. Epub 2022 Jan 24. PubMed PMID: 35067676; PubMed Central PMCID: PMC8830770.
Oltman SP, Rogers EE, Baer RJ, Jasper EA, Anderson JG, Steurer MA, Pantell MS, Petersen MA, Partridge JC, Karasek D, Ross KM, Feuer SK, Franck LS, Rand L, Dagle JM, Ryckman KK, Jelliffe-Pawlowski LL. Newborn metabolic vulnerability profile identifies preterm infants at risk for mortality and morbidity. https://www.ncbi.nlm.nih.gov/pubmed/33003189/ Pediatr Res. 2021 May;89(6):1405-1413. doi: 10.1038/s41390-020-01148-0. Epub 2020 Oct 1. PubMed PMID: 33003189; PubMed Central PMCID: PMC8061535.
Jasper EA, Cho H, Breheny PJ, Bao W, Dagle JM, Ryckman KK., Perinatal determinants of growth trajectories in children born preterm. https://www.ncbi.nlm.nih.gov/pubmed/33507964/ PLoS One. 2021;16(1):e0245387. doi: 10.1371/journal.pone.0245387. eCollection 2021. PubMed PMID: 33507964; PubMed Central PMCID: PMC7842887.
Nidey N, Tabb KM, Carter KD, Bao W, Strathearn L, Rohlman DS, Wehby G, Ryckman K., Rurality and Risk of Perinatal Depression Among Women in the United States. https://www.ncbi.nlm.nih.gov/pubmed/31602705/ J Rural Health. 2020 Jan;36(1):9-16. doi: 10.1111/jrh.12401. Epub 2019 Oct 11. PubMed PMID: 31602705.
Ryckman KK, Spracklen CN, Smith CJ, Robinson JG, Saftlas AF. Maternal lipid levels during pregnancy and gestational diabetes: a systematic review and meta-analysis. https://www.ncbi.nlm.nih.gov/pubmed/25612005/ BJOG. 2015 Apr;122(5):643-51. doi: 10.1111/1471-0528.13261. Epub 2015 Jan 22. Review. PubMed PMID: 25612005.
Full List of Publications : Link