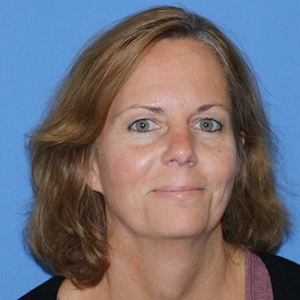 Faculty

Lisa Kamendulis

Associate Professor
Open Research and Contributor Identifier
Department
Environmental and Occupational Health
Education
Indiana University, Biochemistry and Molecular Biology, PD, 1996

Indiana University, Dept of Pathology, PD, 1995

University of New Mexico, Ph.D., 1994

University of Massachusetts, B.S., 1989
Background
2005-present - Associate Member, Indiana University Cancer Center
2007-2010 - Member, Indiana University Center for Environmental Health
2005-2010 - Assistant Professor (research track), Department of Pharmacology and Toxicology, Indiana University, School of Medicine, Indianapolis, IN
2003 - 2004 - Deputy Director, Department of Toxicology, State of Indiana
1996 - 2004 - Assistant Scientist, Department of Pharmacology and Toxicology, Indiana University School of Medicine; Assistant Professor (Part-time) Department of Pharmacology and Toxicology, Indiana University School of Medicine
2001 - 2003 - Associate Director, Department of Toxicology, State of Indiana
1996 - 2001 - Assistant Director, Department of Toxicology, State of Indiana
Research Interests
Toxicology
Contribution of Environmental Chemicals on Human Diseases
Environmental Health
Cancer Biology
Selected Publications
Articles
Gupta SK, Kamendulis LM, Clauss MA, Liu Z. (2016) A randomized, placebo-controlled pilot trial of N-acetylcysteine on oxidative stress and endothelial function in HIV-infected older adults receiving antiretroviral treatment. AIDS. 30(15):2389-91.
Wang ZY, Burlak C, Klaunig JE, Kamendulis LM.(2014) Development of a cytokine-producing immortalized murine Kupffer cell line (2014). Cytokine. 70(2):165-72.
Kamendulis LM, Wu Q, Sandusky GE, Hocevar BA. (2014). Perfluorooctanoic acid exposure triggers oxidative stress in the mouse pancreas. Toxicol Rep. 1:513-521.
Hocevar BA, Kamendulis LM, Pu X, Perkins SM, Wang ZY, Johnston EL, DeWitt JM, Li L, Loehrer PJ, Klaunig JE, Chiorean EG. (2014). Contribution of environme! nt and genetics to .pancreatic cancer susceptibility. PLoS One. 9(3):e90052
Li F, Downing BD, Smiley LC, Mund JA, Distasi MR, Bessler WK, Sarchet KN, Hinds DM, Kamendulis LM, Hingtgen CM, Case J, Clapp DW, Conway SJ, Stansfield BK, Ingram DA Jr. (2014). Neurofibromin-deficient myeloid cells are critical mediators of aneurysm formation in vivo. Circulation. 129(11):1213-24.
Roberts, RA, Ganey, PE, Ju, C, Kamendulis, L.M., Rusyn, I, Klaunig, JE (2007). Role of the Kupffer cell in mediating hepatic toxicity and carcinogenesis. Toxicol. Sci. 96(1):2-15
Klaunig, J.E., Kamendulis, L.M., and Hocevar, B.A. (2010) Oxidative stress and damage in chemical carcinogenesis. Toxicological Pathology. 38: 96-109.
Kamendulis L.M., Corthals SM, Klaunig JE (2010). Kupffer cells participate in 2-butoxyethanol-induced liver hemangiosarcoma. Toxicology 270: 131-136.
Vuppalanchi, R, Juluri, R, Bell, L, Ghabril, M, Kamendulis, L., Klaunig, JE, Saxena R, Agrawal D, Johnson, MS, Chalasani N (2010). Oxidative stress in chronic liver disease: Relationship between peripheral and hepatic measurements. Amer. J. Med. Sci. (in press).
Klaunig, J.E., Kamendulis, L.M. (2010) Carcinogenicity. In Lamb, J. (Ed.) Comprehensive Toxicology 2nd Edition. (in press).