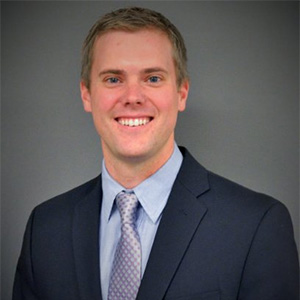 Faculty

Leif Madsen

Clinical Assistant Professor
Department
Kinesiology
Education
Indiana University, Ph.D, 2017

University of Northern Iowa, M.S., 2013

Luther College, B.A., 2008
Background
Courses Currently/Recently Taught
A588—Anatomical Basis of Athletic Injury
A540 & A 550—Orthopedic Principles of Musculoskeletal Injuries I and II
A590—Athletic Training Principles for the Lower Extremity
Scholarly Interest
Dr. Madsen's research aims to assist practicing clinicians in measuring functional and neurological deficits that may contribute to long-term sequelae associated with recurrent ankle sprains. Key words: CAI, Cutaneous Reflexes, Functional Performance
Selected Publications
Articles
Madsen L.P., Kitano K., Koceja D.M., Zehr E.P., Docherty C.L. (2019). Effects of chronic ankle instability on cutaneous reflex modulation during walking. Experimental Brain Research, 237(8), 1959-1971.
Madsen L.P., Hall E.A., Docherty C.L. (2018). Assessing Outcomes in People having Chronic Ankle Instability: The Ability of Functional Performance Tests to Measure Deficits in Physical Function and Perceived Instability. Journal of Orthopaedic Sports Physical Therapy, 48(5), 372-380.
Madsen L.P., Evans T., Snyder K.,& Docherty C.L. (2016). PROMIS Physical Function Item Bank v.1.0: Physical Function Assessment for Athletic Patient Populations. Journal of Athletic Training, 51(9), 727-732.
Madsen L.P., Hall E.A., Docherty C.L. (2015). Assessment of bilateral limb differences in unipedal functional performance tests. British Journal of Sports Medicine. October: 49 (1 Suppl), A19-A20.