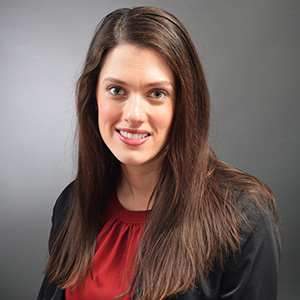 Faculty

Maria Parker

Assistant Professor
Open Research and Contributor Identifier
Department
Epidemiology and Biostatistics
Education
Michigan State University, Ph.D., 2016

Michigan State University, M.S., 2015

Wayne State University, M.P.H., 2011

University of Michigan, B.S., 2006
Background
Position/Grant/Award/etc.
2019-present: Assistant Professor, Department of Epidemiology and Biostatistics, School of Public Health, Indiana University, Bloomington
2016-2019: Postdoctoral Fellow, Department of Psychiatry, Vermont Center on Behavior and Health, University of Vermont
Scholarly Interest
Dr. Parker's research interests lie in the field of drug use epidemiology, how drug use and drug use disorders disproportionately affect vulnerable populations, and opportunities for public health strategies. Her focus is on identifying characteristics associated with opioid use at the population level with attention to developing hypotheses that lead to more efficacious interventions or treatment. She also has expertise in implementing tobacco regulatory science research on smokers with concurrent affective disorders, opioid use disorder, and socioeconomic disadvantage.
Opioid and Other Drug Use
Psychiatric Disorders
Tobacco Regulatory Science
Vulnerable Populations
Selected Publications
Articles
Cheng, H.G., Parker, M.A., Anthony, J.C. (2019). Female-male differences in prescription pain reliever dependence levels: Evidence on newly incident adolescent and young-adult users in the United States, 2002-2014. Drug Alcohol Depend.
Parker, M.A. & Villanti, A.C. (2019). Patterns and frequency of current e-cigarette use in United States adults, 2012-2013. Subst Use Misuse, 1-7. doi: 10.1080/10826084.2019.1626433
Parker, M.A., Pearson, J.L., Villanti, A.C. (2019). Limited utility of detailed e-cigarette use measures: An analysis of NESARC-III. Addict Behav, 97, 56-62. doi: 10.1016/j.addbeh.2019.05.001
Peck, K.R., Parker, M.A., & Sigmon, S.C. (2019). Reasons for Non-Medical Use of Prescription Opioids among Young Adults: Role of Educational Status. Prev Med. doi: 10.1016/j.ypmed.2019.03.047
Parker, M.A. (2019). Persistence of extra-medical prescription pain reliever use and alcohol involvement among United States 12-20 year olds. Exp Clin Psychopharmacol. doi: 10.1037/pha0000262
Ochalek, T.A., Parker, M.A., Higgins, S.T., & Sigmon, S.C. (2019). Fentanyl exposure among patients seeking opioid treatment. J Subs Abuse Treat, 96, 23-25. doi: 10.1016/j.jsat.2018.10.007