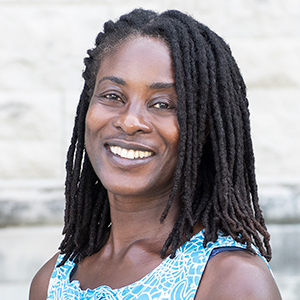 Faculty

Nana Gletsu Miller

Associate Professor
Open Research and Contributor Identifier
Department
Applied Health Science
Education
University of Alberta, Ph.D. in Nutrition and Metabolism, 1998

University of Saskatchewan, B.S. in Biochemistry, 1990
Background
Position/Grant/Award/etc.
ThinkHealthy Group - Bioavailability of Magnesium Formulations
Indiana University, Office of the Vice Provost for Research - Conducting High-Quality Clinical Nutrition Trials with a Research Metabolic Kitchen
Fulbright Research Scholar—Ireland 2019–2020
Chair—Vitamin and Mineral Research Interest Section—American Society for Nutrition—2017–2018
Pilot and Feasibility Award, Indiana University Center for Diabetes and Metabolic Disease—2019–2020
Courses Currently/Recently Taught
Micronutrient Metabolism
Nutrition Assessment
Scholarly Interest
The major focus of Dr. Gletsu Miller's laboratory is to study nutritional status in obesity and following weight loss intervention.
Nutritional interventions targeting obesity-related disease
Nutrition after bariatric surgery
Nutrient bioavailability
Prevention of type 2 diabetes in adolescents
Selected Publications
Articles
Armah S, Ferruzzi MG, Gletsu-Miller N. Feasibility of Mass-Spectrometry to Lower Cost and Blood Volume Requirements for Assessment of B Vitamins in Patients Undergoing Bariatric Surgery. Metabolites, 2020;10(6). doi: 10.3390/metabo10060240.
Zhan, J., Wallace, T.C., Butts, S.J., Cao, S., Ansu, V., Spence, L.A., Weaver, C.M.,Gletsu-Miller, N. Circulating Ionized Magnesium as a Measure of Supplement Bioavailability: Results from a Pilot Study for Randomized Clinical Trial. Nutrients, 12, 1245, 2020; doi:10.3390/nu12051245
Gletsu-Miller, N., Shevni, N., Manatunga, A., Lin, E., Musselman, D. (2019) A multidimensional analysis of the longitudinal effects of roux en y gastric bypass on fatigue: An association with visceral obesity. Phys Behav doi.org/10.1016/j.phybeh.2019.112612
Musselman, D, Shenvi, N, Manatunga, A, Miller, AH, Lin, E, Gletsu-Miller, N. (2019) The effects of roux en y gastric bypass surgery on neurobehavioral symptom domains associated with severe obesity. Phys Behav. doi: 10.1016/j.physbeh.2019.02.013
Mangan, A, le Roux, CW, Miller, NG, Docherty, NG. (2018) Iron and vitamin D/calcium deficiency after gastric bypass: Mechanisms involved and strategies to improve oral supplement disposition. Current Drug Metabolism doi: 10.2174/1389200219666181026160242
Mischler RA, Armah SM, Craig BA, Rosen AD, Banerjee A, Selzer DJ, Choi JN, Gletsu-Miller N. (2018) Comparison of oral iron supplement formulations for normalization of iron status following roux-en-y gastric bypass surgery: a randomized trial. Obes Surg 28(2):369-377; doi: 10.1007/s11695-017-2858-4
Wagner KA, Braun E, Armah SM, Horan D, Smith LG, Pike J, Tu W, Hamilton MT, Delp EJ, Campbell WW, Boushey, CJ, Hannon, TS, and Gletsu-Miller, N. (2017): Dietary Intervention for Glucose tolerance In Teens (DIG IT): Protocol of a randomized controlled trial using health coaching to prevent youth-onset type 2 diabetes. Contemporary Clinical Trials. 53:171-177
Wagner, K, A., Armah, S, M., Smith, L.G., Pike, J., Tu, W., Campbell, W.W., Boushey, C.J., Hannon, T.S., Gletsu-Miller, N. (2016) Associations between diet behaviors and measures of glycemia, in a clinical setting in obese adolescents. Epub, Childhood Obesity. 12(5):341-347