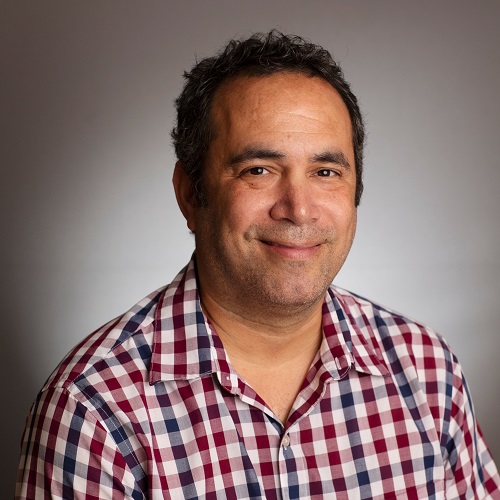 Faculty

Roberto A. Rodríguez

Associate Professor
Department
Environmental and Occupational Health
Education
University of Arizona, Ph.D, 2007

University of Puerto Rico, M.S. , 2003

University of Puerto Rico, B.S., 1997
Background
Assistance Professor. Environmental and Occupational Health Sciences, University of Texas-Health Sciences Center at Houston
Postdoctoral Research Associate. Department of Civil, Environmental and Architectural Engineering, University of Colorado at Boulder
Postdoctoral Research Associate. Department of Environmental Sciences Engineering, University of North Carolina at Chapel Hill
Scholarly Interest
Fate and transport of viruses in the environment
UV Disinfection
Ecology of enteric viruses
Water reuse technologies and mechanisms of viral disinfection
Rapid methods for determination of viral infectivity
Selected Publications
Articles
*Complete list of publication can be found at google scholar profile
Rodríguez, R. A., Navar, C., Sangsanont, J., & Linden, K. G. (2022). UV inactivation of sewage isolated human adenovirus. Water Research, 218, 118496.
Miller, S.E., Rodriguez, R.A., Nelson, K.L (2020) Removal and growth of microorganisms across treatment and simulated distribution at a pilot-scale direct potable reuse facility. Environmental Science: Water Research & Technology 6 (5) 370-1387
Nelson, K. L., Boehm, A. B., Davies-Colley, R.J., Dodd, M. C., Kohn, T., Linden, K. G., Liu, Y., Maraccini, P. A., McNeill, K., Mitch, W. A., Nguyen, T. H., Parker, K. M., Rodríguez, R. A., Sassoubre, L. M., Silverman, A. I., Wigginton, K. R., Zepp, R. G. (2018) Sunlight-mediated inactivation of health-relevant microorganisms in water: A review of mechanisms and modeling approaches. Environmental Science: Processes and Impact. 20 (8), 1089-1122
Beck, S.E., Rodríguez, R. A., Hawkins, M.A., Hargy, T.M., Larason, T.C., Linden, K.G. (2016). Comparison of UV-induced inactivation and RNA damage in MS2 phage across the germicidal UV spectrum. Applied and Environmental Microbiology, 86 (5) 1468-1474
Beck, S. E., Rodríguez, R. A., Linden, K. G., Hargy, T. M., Larason, T. C., & Wright, H. B. (2014). Wavelength dependent UV inactivation and DNA damage of adenovirus as measured by cell culture infectivity and long range quantitative PCR. Environmental Science & Technology, 48(1), 591-598.
Rodríguez R.A., Bounty, S., Beck, S., Chan, C., McGuire, C., Linden, K.G. (2014). Photoreactivation of bacteriophages after UV disinfection: Role of genome structure and impacts of UV source. Water Research, 55,143-149
Rodríguez, R.A., Polston, P.M., Wu MJ, Wu, J., Sobsey, M.D. (2013) An improved infectivity assay combining cell culture with real-time PCR for rapid quantification of human adenoviruses 41 and semi-quantification of human adenovirus in sewage. Water Research, 47(9), 3183-3191
Rodríguez, R.A., Bounty, S., Linden, K.G. (2013) Long-range quantitative PCR for determining inactivation of adenovirus 2 by Ultraviolet Light. Journal Applied Microbiology, 114 (6), 1854-1865
Rodríguez, R.A., Gundy, P.M., Rijal, G.K., Gerba, C.P. (2012) The impact of combined sewage overflows on the viral contaminate on of receiving waters. Food and Environmental Virology, 4 (1), 34-40
Rodríguez R.A., Thie, L., Gibbons, C.D., Sobsey, M.D. (2012) Reducing the effect of environmental inhibition in the quantitative real-time PCR detection of adenovirus and norovirus in recreational seawaters. Journal of Virological Methods, 181 (1), 43-50
Gibbons, C., Rodríguez, R.A., Tallon, L., Sobsey, M.D. (2010) Evaluation of positively-charged alumina nanofiber cartridge filters for the primary concentration of noroviruses, adenoviruses, and male-specific coliphages from seawater. Journal of Applied Microbiology, 109, 635-41
Rodríguez, R.A., Pepper I. and Gerba G.P. (2009) The application of polymerase chain reaction-based methods to assess the infectivity of enteric viruses in environmental samples. Applied and Environmental Microbiology, 75, 297-307