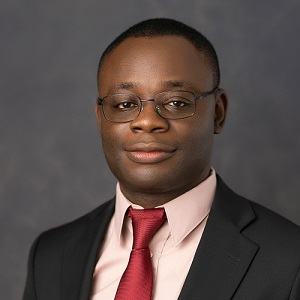 Faculty

Sixtus Aguree

Assistant Professor
Department
Applied Health Science
Education
The Pennsylvania State University, Ph.D.

University of Ghana, M.S.

University of Ghana, B.S.
Background
Dr. Aguree's research program seeks to understand the role of maternal and pediatric obesity on health and nutrition status—and to identify cost-effective nutritional approaches for the prevention/treatment of obesity and micronutrient deficiencies. He is also interested in understanding how malnutrition before and during pregnancy contributes to poor birth outcomes and the resulting consequences for health and nutrition in the early years of life. His research uses several approaches, including lab experiments, clinical trials, and survey data.
Selected Publications
Articles
Mogre V, Yakubu A, Fuseini M, Amalba A, Aguree S. Nurses' knowledge and attitudes regarding malnutrition in children and its management in Ghana. Curationis. 2017 Oct 31;40(1):e1-e8. PubMed PMID: 29113439
Aguree S, Gernand AD. An efficient method for measuring plasma volume using indocyanine green dye.MethodsX. 2019;6:1072-1083. PubMed PMID: 31193322.
Gernand AD, Aguree S, Pobee R, Colecraft EK, Murray-Kolb LE. Concurrent Micronutrient Deficiencies Are Low and Micronutrient Status Is Not Related to Common Health Indicators in Ghanaian Women Expecting to Become Pregnant. Curr Dev Nutr. 2019 Jun;3(6):nzz053. PubMed PMID: 31187085.
Aguree S, Gernand AD. Plasma volume expansion across healthy pregnancy: a systematic review and meta-analysis of longitudinal studies. BMC Pregnancy Childbirth. 2019 Dec 19;19(1):508. PubMed PMID: 31856759.
Pobee RA, Aguree S, Colecraft EK, Gernand AD, Murray-Kolb LE. Food Insecurity and Micronutrient Status among Ghanaian Women Planning to Become Pregnant. Nutrients. 2020 Feb 13;12(2). PubMed PMID: 32069820.
Aguree S, Bethancourt HJ, Taylor LA, Rosinger AY, Gernand AD. Plasma volume variation across the menstrual cycle among healthy women of reproductive age: A prospective cohort study. Physiol Rep.2020 Apr;8(8):e14418. PubMed PMID: 32323928
Aguree S, Guo L, Reddy MB. Phytic Acid Protects from Oxidative Stress Induced by Iron-Overload and High-Fat Diets in ß2-Microglobulin Knockout Mice. Molecules. 2020 Nov 15;25(22). PubMed PMID: 33203173
Aguree S, Gernand AD. A methodology for examining the association between plasma volume and micronutrient biomarker mass and concentration in healthy eumenorrheic women. PeerJ. 2020;8:e10535. PubMed PMID: 33391876
Aguree S, Reddy MB. Inflammatory Markers and Hepcidin are Elevated but Serum Iron is Lower in Obese Women of Reproductive Age. Nutrients. 2021 Jan 14;13(1). PubMed PMID: 33466578
Aguree S, Murray-Kolb LE, Diaz F, Gernand AD. Menstrual Cycle-Associated Changes in Micronutrient Biomarkers Concentration: A Prospective Cohort Study. J Am Nutr Assoc. 2022 Mar 24;1-10. PubMed PMID: 35512771.