Dr. Rotimi is the final and highly anticipated presenter in the school's 2021–22 Distinguished Colloquium Speaker Series.
Dr. Charles Rotimi, an investigator and researcher at the National Institutes of Health (NIH) National Human Genome Research Institute, will deliver the final address of the Indiana University School of Public Health-Bloomington (IUSPH-B)'s Distinguished Colloquium Speaker Series. His presentation, "30+ years of Advancing the Science of Complex Trait Genomics in Diverse Populations," concludes an outstanding series that has included such public health luminaries as Dr. Ilaria Capua, UNLV President Keith Whitfield, and Professor Sir Michael Marmot.
A world-renowned expert on the heritability of complex disease, Dr. Rotimi has long advocated for including individuals from both African and European populations in genome studies, to produce a more complete understanding of the genetic "instructions" contained in the human organism.
"It's very important that as we use genomics to define drugs and design drugs, we have to understand the fact that we need to bring all global populations to bear on this," Dr. Rotimi said in 2015. "When it comes to pharmacogenomics, I look at it as going to the tailor. If you want your clothes to fit, you have to present yourself to the tailor to be measured. That is really the bottom line with pharmacogenomics and with the whole concept of precision medicine. We must characterize the human population as deeply as we can."
Dr. Rotimi's presentation will take place Wednesday, April 13 at noon EDT. Register now at go.iu.edu/483T.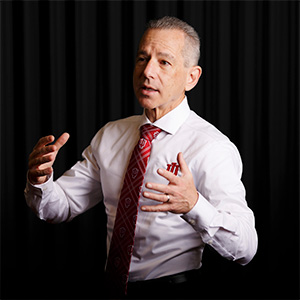 "Dr. Rotimi is one of the lights of our field. He is helping us find our way to seeing scientific and social terrain that we have previously not seen," says SPH-B Dean David Allison. "I have had the privilege of knowing Dr. Rotimi, collaborating with him, and learning from his research for decades and am so grateful for the opportunity to have him as our speaker."
The Distinguished Colloquium Speaker Series was established in 2018 to bring national and international health leaders to the school—both in person and virtually—to shed light on important issues in public health. Learn more at publichealth.indiana.edu.