Several Indiana University School of Public Health-Bloomington (SPH-B) faculty in the Department of Health & Wellness Design have been awarded grants by the National Institute on Aging (NIA) of the National Institutes of Health (NIH) for Small Business Innovation Research (SBIR) and Small Business Technology Transfer (STTR) projects. This series of SBIR/STTRs aims to improve the quality of life for people living with Alzheimer's disease (AD) and Alzheimer's disease–related dementias (ADRD)—as well as their family caregivers.
Putting the Pieces Together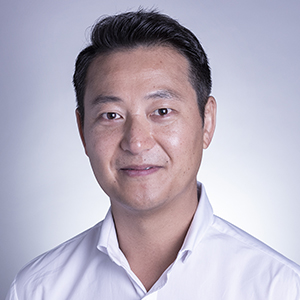 Assistant Professor Junhyoung (Paul) Kim recently received NIA support for a R41 (Phase 1 STTR) project entitled "Jigsawdio: an audiovisual jigsaw puzzle for people with AD/ADRD." With a budget of nearly a half-million dollars, Dr. Kim serves as principal investigator (PI) for research in collaboration with industry PI Amy Young.
Dr. Kim elaborates that this project is "to offer a personalized and narrated jigsaw puzzle experience that fosters beneficial engagement and enjoyment. The Jigsawdio platform elicits the cognitive benefits of engaging in a jigsaw puzzle while simultaneously connecting users to the memories of important people and life events through personalized audio messages and music."
Currently, Kim and his team are focused on creating personalized acrylic puzzles that would be played in a displayable frame and provided for older adults currently living with AD/ADRD at memory care units in Bloomington. The recorded audio clips would be engaged when a piece of the puzzle is placed. Dr. Kim says in the project summary that the goal is to provide a method to engage this specific audience "emotionally and intellectually while reducing feelings of isolation and stress without the need for interpersonal contact."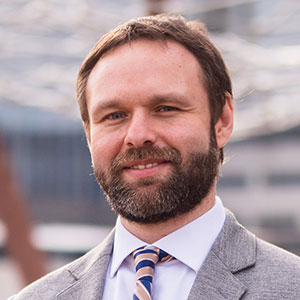 "This work studying technology applications for combining cognitively challenging activities with reminiscence therapy is both innovative and important," says Department Chair and Professor, Dr. Richard Holden, who is also a co-investigator on the study.
Kim hopes that after trialing the product in Bloomington, Jigsawdio can be an important health resource tool available nationwide.
Catching better ZZZs
Another achievement in SBIRs is a two-year R44 (Phase 2 SBIR) funding award of more than two million dollars from the NIH/NIA for a project entitled "Automated, Assistive, Non-Contact Sleep Quality Monitor for Individuals with Alzheimer's Disease (AD)." IU is partnering with small business Innovative Design Labs (IDL) to test this monitor in nursing homes.
Dr. Holden is the site PI for the clinical study and Mr. John Kablan, staff scientist at IDL, is the contact PI. The team also includes Dr. Kathleen Unroe of the IU School of Medicine.
"Our team is excited to test whether a sensor-based technology solution will improve the care and sleep outcomes of persons with Alzheimer's disease," says Holden.
According to the project description, 1 in 3 patients with AD/ADRD have nighttime disturbances such as insomnia, wandering, day/night confusion that can lead to reduced health and lower quality of life—and additional burdens on caregivers. This proposed monitoring system would be safe for long-term use and allow for more accurate and in-depth data to be generated so that non-pharmacological solutions to improvements in sleep quality can be identified and implemented. The project is a follow-up to a prior collaboration between Holden and IDL on an R43 (Phase 1 SBIR) to develop and test the sleep monitor in people's homes.
"One of the uniquely powerful aspects of the study is the partnership between industry-based engineers and entrepreneurs at IDL, community-based healthcare organizations, and IU-based research experts in technology and aging," says Holden.
Holden reports that the technology is in the testing phase with nursing home partners. This is another excellent example of how the Department of Health & Wellness is proactively meeting the university's call for business development and research on commercializable technologies.
Support for ADRD Caregivers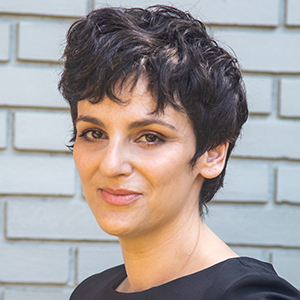 In continuing efforts to support AD/ADRD patients and caregivers, Associate Professor Dr. Nicole Werner has been awarded NIH/NIA SBIR grants for two projects: "Alzheimer's Family Connection" and an R43/R44 (Phase 2 Fast Track SBIR) for "Design, Development, and Validation of an AI-Enabled Legal Planning and Financial Management Training Solution for ADRD Caregivers." Both projects are in collaboration with CareVirtue, a small business that aims to make it easier to care for loved ones.
For "Alzheimer's Family Connection," the NIA awarded almost $500K for the development of this project with CareVirtue. The aim is to provide a nationwide online community and personalized resource connection tool tailored for dementia caregivers in rural settings, who typically experience higher caregiver burden and lower social support than those with similar roles in more urban locales. According to Werner, this targeted group faces "unique challenges."
"Technology has the potential to address these health disparities but requires that technology is designed to meet the specific needs of rural caregivers," she says. "To date, we've conducted the first stage of user-centered design to conduct a needs assessment with family caregivers of people living with dementia living in rural areas across the country."
The results of the nationwide needs assessment will guide the next step of the project, which is to directly involve the rural caregiver community and related organizations in co-designing CareVirtue Family Connection.
Werner also received funding from the NIA for "AI-Enabled Legal Planning and Financial Management Training Solution" for ADRD caregivers. In the project's first phase, Werner and CareVirtue collaborated with family caregivers to design the Legal Planning and Financial Management Training Solution initial recommender system. Werner explains that one of the key challenges facing caregivers is timely support during their caregiving journey—which is where the AI component of this tool plays a crucial role.
"In Phase 2...we are going to field test our financial and legal planning solution for family caregivers of people living with AD/ADRD, CareVirtue Planner, with caregivers," says Werner. "The results will allow us to improve the design and to validate and refine the AI so that we can be sure the commercialized CareVirtue Planner gets caregivers the critical financial and legal planning support they need at the exact time they need it."
Drs. Kim, Holden, and Werner are among a growing body of SPH-B faculty who receive critical funds to conduct life-changing research in collaboration with small businesses. These important relationships foster successful commercialization, which means these important interventions can be made accessible to millions of people who need them. Their work specifically with the AD/ADRD community is a key example of how cutting-edge SPH-B research contributes to better health in Indiana, the nation, and the world.