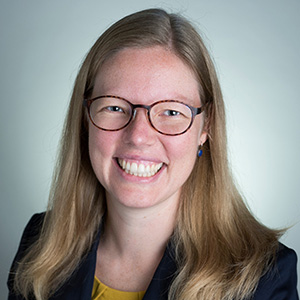 Faculty

Christina Ludema

Associate Professor
Open Research and Contributor Identifier
Department
Epidemiology and Biostatistics
Education
University of North Carolina, Chapel Hill, Ph.D., 2013

University of North Carolina, Chapel Hill, M.S.P.H., 2010

Calvin College, B.S., 2006
Background
2016-present Assistant Professor, School of Public Health, Indiana University, Bloomington
2013-2016 Postdoctoral Fellow, School of Medicine, University of North Carolina, Chapel Hill
Scholarly Interest
Dr. Ludema's research and training have focused on social and structural contributors to sexually transmitted disease outcomes and causal inference methodology. She has been involved in the Women's Interagency HIV Study (WIHS), a large prospective cohort of HIV-infected and -uninfected women in the US since 2013. Her current research interests include women's health, health insurance policy, food insecurity, transportation, and HIV control and comorbidities.
Selected Publications
Articles
Rosenberg M, Chen C, Golzarri-Arroyo L, Carroll A, Menachemi N, Ludema C. SARS-CoV-2 reinfections in a US university setting, Fall 2020 to Spring 2021. BMC Infectious Diseases. 2022; 22(1): 1-7.
Kianersi S, Ludema C, Macy JT, Chen C, Rosenberg M. Relationship between high-risk alcohol consumption and severe acute respiratory syndrome coronavirus 2 (SARS-CoV-2) seroconversion: a prospective sero-epidemiological cohort study among American college students. Addiction. 2022 July;117(7):1908-1919.
Perry BL, Aronson B, Railey A, and Ludema C. If you build it, will they come? Social, economic, and psychological determinants of COVID-19 testing decisions. PLOS ONE. 2021 Jul 14;16(7):e0252658.
Yin DE, Ludema C, Cole SR, Golin CE, Miller WC, Warshaw MG, McKinney RE; on behalf of the PENPACT-1 (PENTA 9 / PACTG 390) Study Team. Time to treatment disruption in children with HIV-1 randomized to initial antiretroviral therapy with protease inhibitors versus non-nucleoside reverse transcriptase inhibitors. PLoS One. 2020 Nov 23;15(11):e0242405.
Ludema C, Wilson CM, Michelle A. Lally MA, Jacob J. van den Berg JJ, and J. Dennis Fortenberry JD. Prior incarceration associated with missed HIV care visits among young people living with HIV in the US. AIDS Care. 2020 Sep; 32(9): 1150-1154.
Richards M, Weigel M, Li M, Rosenberg M, Ludema C. Household Food Insecurity and Antepartum Depression in the National Children's Study Cohort. Ann Epi. 2020 Apr; 44:38-44.e1.
Ludema C, Edmonds A, Cole SR, Eron JJ, Adedimeji AA, Cohen J, Cohen MH, Kassaye S, Konkle-Parker DJ, Metsch LR, Wingood GM, Wilson TE, and Adimora AA. Comparing neighborhood and state contexts for women living with and without HIV: understanding the Southern HIV epidemic. AIDS Care. 2018 Nov; 30(11): 1360-1367.