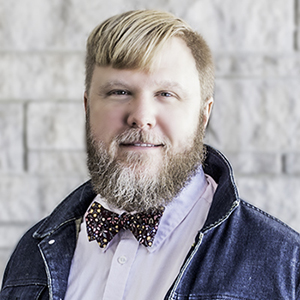 Faculty

Hank Green

Associate Professor
Department
Applied Health Science
Education
University of Florida, Ph.D. in Anthropology, 2003

University of Georgia, M.S. in Plant Biology, 1996

University of Georgia, B.S. in Plant Biology, 1995
Background
Positions
2017–Present. Director of Research, Person to Person Field Interview Study, Precision Health Initiative, Indiana University, Bloomington IN.
2017–Present. Affiliated Adjunct Senior Behavioral Scientist RAND Corporation.
2017–2019. Senior Research Scientist, Indiana University Network Science Institute, Indiana University, Bloomington IN.
2013–2017. Founding Director. RAND Methods Center for Applied Network Analysis and Systems Science. RAND Corporate Headquarters, Santa Monica CA.
2011–2017. Professor and Core Faculty Member. Pardee RAND Graduate School for Public Policy. RAND Corporate Headquarters, Santa Monica CA.
2007–2017. Senior Behavioral Scientist, Health Unit, Behavioral and Social Sciences Division, Health Promotion and Disease Prevention, RAND Corporate Headquarters, Santa Monica CA.
NRT Postdoctoral Training Fellow, University of Illinois, 2003–2005. Department of Psychology, Quantitative Division.
Scholarly Interest
Applied network science in the context of health promotion and disease prevention, personal networks and health, HIV prevention and HIV care adherence, social influence processes, addictions, international health, research methods and research design
---
Download CV
---
Selected Publications
Articles
Wagner, Glenn J., Laura M. Bogart, David J. Klein, Harold D. Green, Andrew Kambugu, Joan Nampiima, and Joseph KB Matovu. "Examination of Mediators and Moderators to Understand How and in What Context Game Changers Increases HIV Prevention Advocacy Among Persons Living With HIV in Uganda." International Journal of Behavioral Medicine (2021): 1-9.
Johnson, Laura M., Harold D. Green Jr, Brandon Koch, Jamila K. Stockman, Marisa Felsher, Alexis M. Roth, and Karla D. Wagner. "Role of social networks and social norms in future PrEP use in a racially diverse sample of at-risk women and members of their social networks." JAIDS Journal of Acquired Immune Deficiency Syndromes 86, no. 4 (2021): 422-429.
Tucker, Joan S., Wenjing Huang, Harold D. Green Jr, and Michael S. Pollard. "Patterns of Substance Use and Associations with Mental, Physical, and Social Functioning: A Latent Class Analysis of a National Sample of US Adults Ages 30?80." Substance use & misuse 56, no. 1 (2021): 131-139.
Pollard, Michael S., Joan S. Tucker, and Harold D. Green. "Changes in adult alcohol use and consequences during the COVID-19 pandemic in the US." JAMA network open 3, no. 9 (2020): e2022942-e2022942.
Bogart, Laura M., Joseph KB Matovu, Glenn J. Wagner, Harold D. Green, Erik D. Storholm, David J. Klein, Terry Marsh, Sarah MacCarthy, and Andrew Kambugu. "A pilot test of game changers, a social network intervention to empower people with HIV to be prevention advocates in Uganda." AIDS and Behavior 24, no. 9 (2020): 2490-2508.
Green Jr, H. D., Wasserman, S., de la Haye, K., EmBree, J., Hoover, M., PunKay, M. (2019). Systematic Investigation of the Effects of Missing Data on Statistical Models for Networks. RAND Methods Centers Working Paper WR-1314-PRGS. DOI: https://doi.org/10.7249/WR1314
Hermanstyne, K. A., Green Jr, H. D., Cook, R., Tieu, H. V., Dyer, T. V., Hucks-Ortiz, C., & Shoptaw, S. (2018). Social Network Support and Decreased Risk of Seroconversion in Black MSM: Results of the BROTHERS (HPTN 061) Study. Jaids Journal of Acquired Immune Deficiency Syndromes, 78(2), 163-168. PMID: 29424789 PMCID: PMC5953785 DOI: 10.1097/QAI.0000000000001645