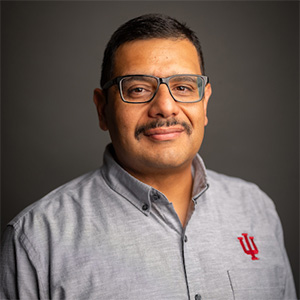 Faculty

Raul Cruz

Associate Professor
Open Research and Contributor Identifier
Department
Epidemiology and Biostatistics
Education
University of Texas at El Paso, Ph.D. in Computer Engineering, Department of Electrical and Computer Engineering, January 2002 - May 2005

University of Texas at El Paso, Master's degree in Statistics, Department of Mathematical Sciences, January 2000 - January 2002

Autonomous University of Chihuahua, Bachelor's Degree in Computer Systems Engineering, August 1995 - December 1999
Background
Associate Research Professor, Department of Epidemiology and Biostatistics, University of Maryland-College Park, January 2010-July 2022
Assistant Professor, Department of Computer Science, Texas A&M University-Texarkana, September 2007-December 2009
Postdoctoral Fellow, Bioinformatics Program, Department of Mathematical Sciences University of Texas at El Paso, June 2005- August 2007
2021 Inducted to Delta Omega, the Honor Society in Public Health
2009 Inducted to Eta Kappa Nu, the Honor Society for Electrical and Computer Engineers
2005 Inducted to Tau Beta Pi, the Honor Society for Engineers
Scholarly Interest
Biostatistics; Computational Statistics; Data Analysis; Statistical Programming; Machine Learning; Tobacco and Nicotine Research; Environmental Health; Critical, Emergency, and Disaster Medicine.
Selected Publications
Articles
R. Cruz-Cano, T. Ma, Y. Yu, M. Lee, H. Liu, "Forecasting COVID-19 Cases based on Social Distancing in Maryland, U.S.A.: A Time –Series Approach", Disaster Medicine and Public Health Preparedness, Volume 16, Issue 5, October 2022, pp. 1798 - 1801, DOI: https://doi.org/10.1017/dmp.2021.153
BE. Schwartz, P. Gandhi, D. Najafali, M. Meade Gregory, N. Jacob, T. Helberg, C. Thomas, B.J. Lowie, M.A.H. Veld, R. Cruz-Cano, "Manual Palpation Versus Femoral Arterial Doppler Ultrasound for Comparison of Pulse Check Time During Cardiopulmonary Resuscitation in the Emergency Department", Journal of Emergency Medicine, Volume 61, Issue 6, 2021, pp. 720-730, ISSN 0736-4679, https://doi.org/10.1016/j.jemermed.2021.03.016.
B. Schwartz, K.K. Baker, A.J Bleinberger, A. Lleshi, R. Cruz-Cano, "Intravenous Haloperidol for The Treatment of Intractable Vomiting, Cyclical Vomiting, and Gastroparesis", World Journal of Emergency Medicine, Med, Vol 12, No 3, pp. 136-139, 2021. doi:10.5847/wjem.j.1920-8642.2021.03.012
Y. Lama, S. C. Quinn, X. Nan, R Cruz-Cano, "Social media use and Human papillomavirus awareness and knowledge among adults with children in the household: examining the role of race, ethnicity, and gender", Human Vaccines & Immunotherapeutics, 2021 Apr 3;17(4):1014-1024. PMID: 33121331; PMCID: PMC8018449. DOI: 10.1080/21645515.2020.1824498
R. Cruz-Cano*, M. Rangel-Gomez*, C. Van Wagoner, A. Kidanu, P.I. Clark (*these authors contributed equally to this work), "The acceptability of tobacco products depends on nicotine levels and not on delivery method", Addictive Behaviors Reports, December 2019, DOI 10.1016/j.abrep.2019.100217.
R. Cruz-Cano, E. Mead "Estimation of the Causes of Excess Deaths in Puerto Rico after Hurricane Maria using a Time-Series Model", July 2019, American Journal of Public Health, no. 109, pp. 1050-1052. DOI: 10.2105/AJPH.2019.305015.
R. Cruz-Cano, E. Mead "Excess Deaths after Hurricane Maria in Puerto Rico", Journal of the American Medical Association, March 2019, JAMA. 2019;321(10):1005. doi:10.1001/jama.2018.20861
M. Rangel-Gomez*, R. Cruz-Cano*, M. Bachman, A. Kidanu, E. Bernat, P. Clark (*these authors contributed equally to this work), "Dissociating the effect of flavor and nicotine in smokeless tobacco products using electroencephalography: The case of wintergreen flavors", Addictive Behaviors, November 2018, pii: S0306-4603(18)31311-X. DOI: 10.1016/j.addbeh.2018.11.013.
R. Cruz-Cano and M.-L.T. Lee, "Fast Regularized Canonical Correlation Analysis", Computational Statistics and Data Analysis, Volume 70, Pages 88–100, February 2014, http://dx.doi.org/10.1016/j.csda.2013.09.020.
R. Cruz-Cano, M.-L.T. Lee, and M.Y. Leung, "Logic Minimization and Rule Extraction for Identification of Functional Sites in Molecular Sequences", BioData Mining, Vol. 5, Issue 10, August 2012, DOI:10.1186/1756-0381-5-10
R. Cruz-Cano, M.Y. Leung, K.P. Choi, and D. Chew, "Least-Squares Support Vector Machine Approach to Viral Replication Origin Prediction", INFORMS Journal of Computing, Vol. 22, No. 3, Summer 2010, pp. 457-470, DOI:10.1287/ijoc.1090.0360
M.-L.T. Lee and R. Cruz-Cano, "Technical Report 3: Physicians Counts and Categorization and Characteristics of Physicians in the State of Maryland and Prince George's County", in D.V. Kleinman (ed.) "Report of the Public Health Impact Study of Prince George's County", July 2012.
Package Developed
FRCC: This package implements the functions associated with Fast Regularized Canonical Correlation Analysis. Accepted in the official R Language Repository (CRAN): http://cran.r-project.org/web/packages/FRCC/