Mentorship is an essential component to student achievements, as well as faculty success, at the IU School of Public Health-Bloomington (SPH-B). The School's significant appreciation for the role of mentorship in pursuing academic excellence is evidenced by two of its distinguished leaders — Dean David Allison, Ph.D. and Patricia Silveyra, Ph.D. — being celebrated for their important mentorship contributions by the esteemed global health organization American Physiological Society (APS).  
Dr. Silveyra recently received the A. Clifford Barger Underrepresented Minority Mentorship Award, which recognizes an APS member for their distinguished leadership, guidance, and mentorship of minority group students studying the physiological sciences.
"Dr. Barger was a strong supporter of women and underrepresented minority physiologists, and as a woman of color, I have personally benefited from his efforts and legacy," says Dr. Silveyra. "Over the past 12 years, the APS has supported me and my lab members through various initiatives and opportunities, and I am proud to conduct service to contribute to their mission." 
Dr. Silveyra is the Anthony D. Pantaleoni Eminent Scholar and was recently named incoming chair of the SPH-B Department of Environmental and Occupational Health. In addition to mentoring her students, Dr. Silveyra has also provided mentorship to colleagues in EOH, such as Assistant Professor Sarah Commodore, Ph.D. who this spring attended the National Academy of Sciences (NAM) Emerging Leaders Forum with Dean Allison.                        
In nominating Dr. Silveyra, Lynnsay A. Marsan, Ph.D., American Association for Cancer Research Associate Director of Corporate Alliances and former East Carolina University Vice Chancellor Fellow for Undergraduate Research said, "I have known Patricia since 2010, when I was a doctoral candidate at Pennsylvania State College of Medicine. Having Patricia join was one of the best things to have ever happened to our organization. She immediately became a role model of a successful woman of color in academia. Members of our organization were impressed with her selflessness, her strong work ethic, and her ability to achieve work/life balance while still maintaining her ethnic and cultural identities."
Dean Allison was honored with the Bodil M. Schmidt-Nielsen Distinguished Mentor and Scientist Award, given to an APS member who has not only made significant contributions to physiological research, but has also demonstrated a dedication to training young physiologists. The award recognized Dean Allison's long-standing commitment to mentorship, innovative education methods and materials, and tireless efforts to guide students' professional and personal development.
"Mentoring is an activity that is dear to my heart," says Dean Allison. "I attribute much of any success and even more so much of the considerable joy I have had as a scientist and scholar throughout my career to the encouragement, support, partnership, and inspiring provocation of many good mentors."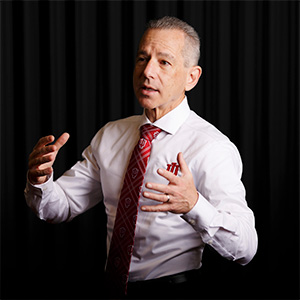 He adds, "I also have experienced the greatest joy of paying it forward by mentoring others, and not only having the privilege of helping them in their careers but learning as much from them (or perhaps even more) than they learn from me. So, to be recognized with this mentoring award, to be nominated by my mentees is a great gift -- made all the sweeter by its focus on diversity and by sharing a platform with my good friend and colleague Professor Patricia Silveyra, who is also, and justifiably, recognized for her outstanding mentorship in the same period."
Michelle Cardel, Ph.D., R.D., senior director of clinical global research and nutrition at WW, emphatically praises Dean Allison's impact on her professional career. "Dr. Allison is a sensational mentor and brilliant scientist who provides opportunities for early career investigators," she says. "His research integrity and commitment to ethical principles are unparalleled, and I am grateful for the opportunity to have been his mentee and for his continued commitment to my success."
Read more about how SPH-B faculty is making a difference both locally and worldwide.