Dr. Vanessa (Martinez) Kercher of the Indiana University School of Public Health-Bloomington (IUSPH-B) has been selected for the 2022 Linton-Poodry SACNAS Leadership Institute (LPSLI), hosted by the Society for Advancement of Chicanos/Hispanics & Native Americans in Science (SACNAS).
The LPSLI was established in 2009 to a cultivate a more diverse generation of STEM (science, technology, engineering, and mathematics) professionals. SACNAS describes the institute as "premier training for motivated STEM professionals from populations that have been historically excluded and, as a result of exclusion, are underrepresented in STEM."
"I am thrilled that SACNAS has invited me to advance the visibility of underrepresented minority scientists," Dr. Kercher says. "I cannot wait to participate in the workshops, discussions, and practical experiences with distinguished leaders and other members of the cohort. I offer a super-big 'thank you' to Dr. Patricia Silverya and countless other colleagues for their mentorship, kindness, and confidence in me."
The newest LPSLI cohort will meet July 17–22 in Washington, D.C. Events include workshops on leadership, bias, and more; as well as mentorship lunches and the opportunity to network with fellow LPSLI members to promote the visibility of scientists from historically excluded populations.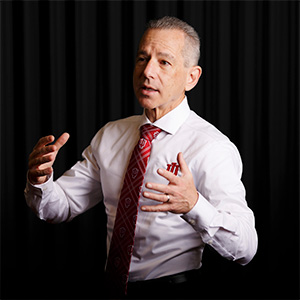 "I hope I may one day be remembered in part for having had the good sense to hire the amazingly energetic and positive Professor Vanessa Kercher," says IUSPH-B Dean David Allison. "I am nothing short of thrilled to see my fellow SACNAS member continue to excel, advance our field and school, advocate for diversity, and be recognized by her peers. I am so proud of and happy for Dr. Kercher." 
Founded in 1973, SACNAS is "an inclusive organization dedicated to fostering the success of Chicanos/Hispanics and Native Americans, from college students to professionals, in attaining advanced degrees, careers, and positions of leadership in STEM."

Learn more at SACNAS.org. News about IUSPH-B is always available at go.iu.edu/48bx.