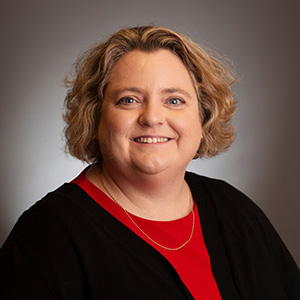 Staff

Cindy Broderick

Director of Faculty Administration
Interim Director of Communications and Outreach
Education
University of Notre Dame - South Bend, M.N.A. , 2014

Aquinas Institute of Theology - St. Louis, M.A. , 2012

Quincy University - Quincy, B.A., 2010
Background
Her complete CV is available here (accurate as of 11/22/2021).
Cindy Broderick holds a Masters in Non-Profit Administration from the Mendoza School of Business at the University of Notre Dame and a Masters in Theology from the Aquinas Institute of Theology, St. Louis, MO. She is currently a Ph.D. candidate in Higher Education program at the IU Bloomington School of Education, where her primary research focuses on the history and development of higher education faculty. She is currently working on her Ph.D. dissertation study that focuses on the development and use of endowed and titled professorships. She also has interest in the intersection of spirituality, religion, and student engagement.
Cindy joined the School of Public Health - Bloomington in August 2021 after having served for several years as the Coordinator of Strategic Initiatives in the Indiana University Office of the President. Cindy brings to the SPH-B her experience and knowledge of Indiana University and faculty affairs particularly in the areas of faculty teaching/service/research awards and recognitions, faculty recruitment, and faculty retention and socialization. Cindy has almost twenty years of experience in all levels of education including having served for five years in student affairs at the University of Notre Dame.
In her current role, Cindy works closely with the School's academic administration and departmental leadership in the recruitment of new faculty and the development and implementation of the new faculty orientation program. She also serves as an advisor to the Dean on matters related to internal and external awards and recognitions for the SPH-B faculty.